What Are The Benefits Of Having A Wholesale Drug License In Form 20B & 21B?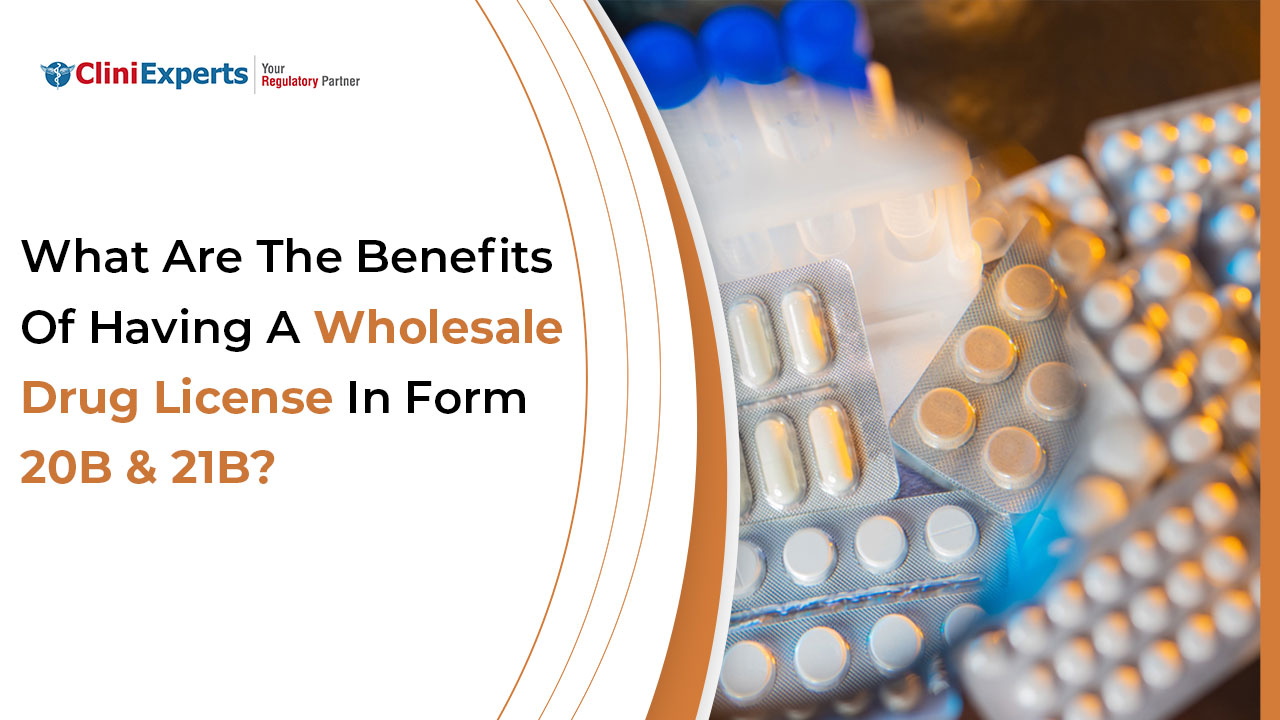 A wholesale drug license in Form 21B is a prerequisite for starting a business to sell or distribute drugs that include biologicals, in-vitro diagnostic kits, and medical devices. In India, the government has strict and uncompromising rules and regulations for granting a wholesale license to distribute drugs.
Companies dealing drugs or medicines are not allowed to operate without a drug license. Drug licenses allow the government to monitor and maintain the quality of pharmaceuticals sold in India. Having a valid wholesale drug license is all about letting your customers know that your products are safe and pose no health risks.
Wholesale Drug License (Form 20B/21B) – Definition
To become a drug wholesaler, you must hold permission of a wholesale license from the State Licensing Authority (SLA) to distribute or sell drugs that come under the Drugs and Cosmetics Act,1940. State Licensing Authority is the regulatory body that regulates and controls the license of manufacturing, distribution, and sale of drugs under the Drugs and Cosmetics Rule.

To get the approval of a Wholesale License, the following forms are required –
Form 19 – Form 19 is the application form, you need to submit to get permission for the wholesaler to sell, stock, exhibit, or distribute drugs.
Form 20B – In Form 20 B, the wholesaler gets a wholesale drug license for drugs that are not specified in Schedule C, C (1), and X of the Drugs & Cosmetics Act and Rules.
Form 21B – Form 21 B grants permission to wholesalers to sell, and distribute drugs defined in Schedule C & C (1) of the Drugs & Cosmetics Act and Rules.
Benefits Of Having A Wholesale Drug License In Form 20B & 21B
A wholesale drug license entails a range of benefits that an individual can take advantage of after having been registered.
Establish A Legal Ground for Executing Drug-Related Activities
Government authority such as CDSCO has regulated some strict provisions for enforcing the Drugs and Cosmetics Act, 1940 against unregistered entities.
In addition to ensuring that their code of conduct complies with the existing regulations, registered companies have to be up-to-date with all the new developments. While this may seem like a burden, it has some positive aspects as well.

A wholesale drug license makes it possible for all pharmaceutical supply chain entities to maintain a seamless supply chain. The wholesale license, in its most basic form, enables the wholesalers to carry on with their business without much hassle and legal complications.
Wholesale License Boost Business Credibility
A wholesale drug license shows your consumers that you are distributing drugs by stringent quality standards. The wholesalers' compliance with the Drugs and Cosmetics Act, of 1940 would help them develop the credibility that the market needs to succeed and create endless opportunities. A wholesale drug license can set the stage for endless business opportunities for sustainable growth. One of the most noteworthy advantages of a wholesale drug license is this.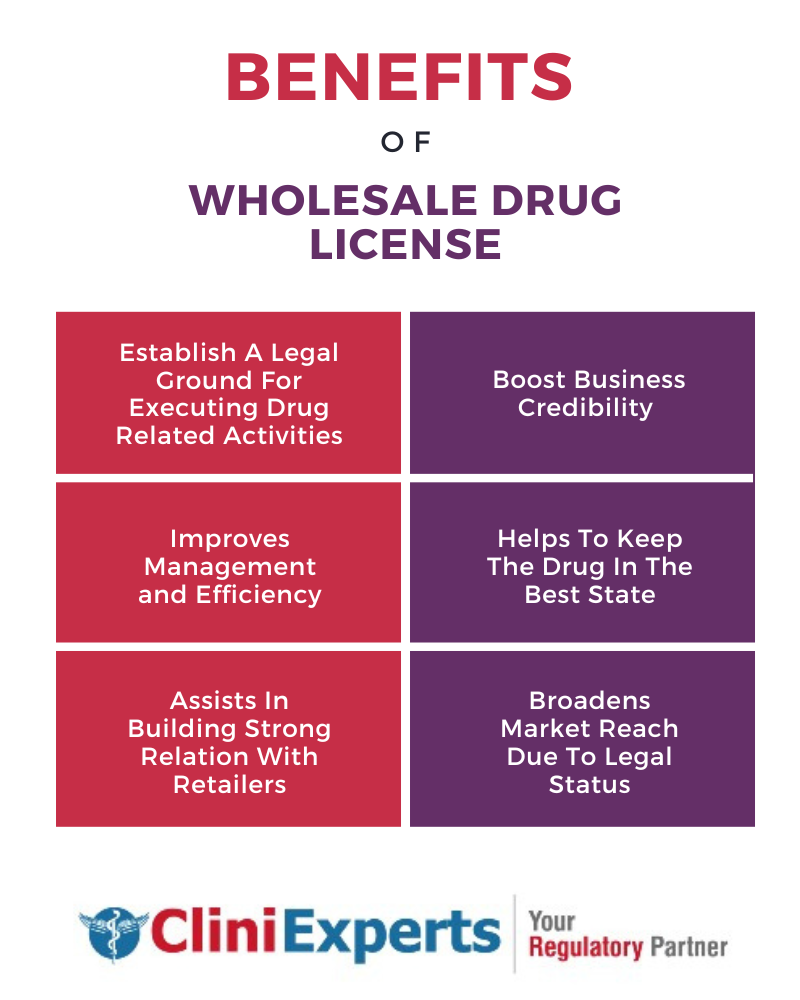 Wholesale License Improves Management and Efficiency
Assuring compliance with CDSCO and SLA's drug compliances may be challenging in the beginning, however, with time, it could have a positive impact on the effectiveness of the company if the owner is willing to stay within the boundaries of the Drugs & Cosmetics Act 1940.
Wholesale Drug License Helps To Keep The Drug In The Best State
Drugs are quite vulnerable to contamination, so the new entities are challenged to keep them safe. To maintain the best possible hygiene for their drugs procured in an isolated zone, wholesalers can follow the following guidelines provided by CDSCO under the Drug & Cosmetic Act, 1940. Having a valid wholesale drug license proves that the drugs you have are safe and pose no health risks. Wholesale licensed holders of drugs are continually informed by the authorities about changes to the drug procurement procedures through official notifications.
Wholesale License Assists In Building Strong Relation With Retailers
It is common for Drug retailers to remain very cautious when purchasing drugs from wholesalers. They are overly concerned with the quality, storage, and pricing of the drugs before they purchase them. A drug license, on the other hand, certifies that the entity is following every possible measure outlined by authorities to ensure transparency in its business practices. Hence, the entity does not have to worry about all those attributes.
Wholesale Drug License Broadens Market Reach
By becoming a wholesale drug seller, the entity is not only able to meet its business goals, but they are also able to increase its market exposure. The pharmaceutical company may take advantage of the improved visibility as a brand and explore new opportunities that are available in the market to expand. The advantages of a Wholesale Drug License can be practically endless from a growth perspective. As an example, wholesale drug licenses could leave a lasting impact on a business.
Conclusion –
A wholesale drug license has numerous benefits for wholesalers despite the strict rules and regulations. Since the wholesale drug license has a global reorganization, it opens up endless possibilities for businesses. The CDSCO requires wholesale license holders to stay in compliance with its provisions. Buying and selling drugs are subject to endless run-throughs of compliance requirements. That's why professional guidance is so important. Keeping abreast with constantly changing compliances is not the only thing CliniExperts' professionals do for our clients dealing with drugs. We also pave the way for maximizing the efficiency of the workflow.
Summary –
To keep consumers in mind, drug wholesalers generally do not deal directly with the manufacturing and distribution of goods. They typically purchase goods in bulk from the manufacturer and then sell them to retailers and customers (hospital and community pharmacies). Licenses for wholesale drug distribution are mainly granted on Forms 20B and 21B. Drug license applications should be filed according to the rules set forth by the Drug and Cosmetic Act of 1940. In this blog, you will know several benefits of Wholesale drug licenses that are worth considering.