CDSCO Releases Draft Regulatory Guidelines For The Development Of Vaccines In COVID-19 Pandemic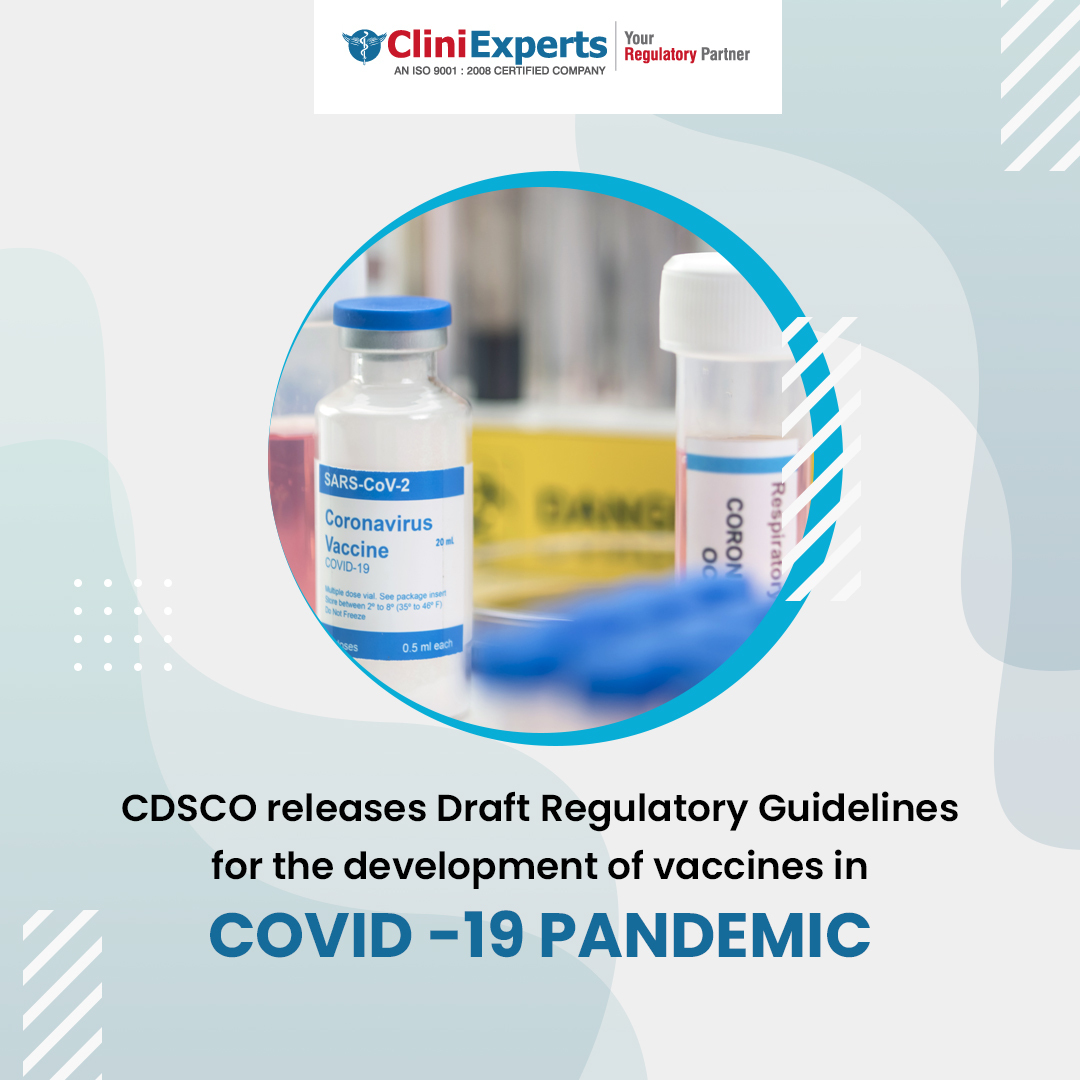 Coronavirus still poses a potential threat to the global population, but no vaccines protect the body against the virus, causing COVID-19. The coronavirus spreads quickly, and majority of the world's population is still vulnerable to it. A vaccine would provide some protection by training the body's immune systems to fight the virus. Amidst the pandemic of COVID-19, the world is racing to develop an effective vaccine to slow the pandemic and lessen the damage caused by corona virus. Research is happening at breakneck speed. About 240 vaccines are in early development, with 40 in clinical trials and nine already in the end stage of testing on thousands of people.
The clinical development of a vaccine is a complex process involving multidisciplinary research and adequate laboratory facility, nonclinical and clinical data to ensure their safety, efficacy, and quality. Globally, India is one of the major producers of vaccines and caters to the world's requirements of a significant population.
Due to the present corona virus pandemic, there is a need to develop comprehensive guidelines on vaccine developments that will give a clear regulatory step to the country's vaccine developers. The Central Drugs Standard Control Organisation (CDSCO) released draft guidelines for developing vaccines in the grave situation of COVID-19, taking it as a special case. The Central Drug Authority came with the guidelines considering the Drug and Cosmetics Rules, 1940 and New Drugs and Clinical Trials Rules, 2019, and the international perspectives of World Health Organization (WHO), United States Food and Drug Administration (USFDA), European Medicines Agency (EMA) guidelines, and other applicable guidelines of CDSCO. This is to ease the early development of safe, effective, and quality vaccines especially during COVID-19 in the country.
These guidelines are proposed by CDSCO so that research organisations can follow the development and regulatory approval of vaccines in India. However, these guidelines are dynamic and recommendations and not necessarily replace statutory laws. If any stakeholders have any queries related to the guidelines, they can send it to dci@nic.in and vgsjdci@gmail.com before 12 th Oct, 2020. The draft guidelines on vaccine development will be updated by CDSCO based on the various challenges faced during research and implementation of the advanced scientific and technological method, design and incorporating all comments and further discussions of the stakeholders.
References:
1.Notice for Vaccine Guidelines dated 21 Sept 2020.Available at: https://cdsco.gov.in/opencms/opencms/system/modules/CDSCO.WEB/elements/download_file_division.jsp?num_id=NjQ5OQ== .Accessed on October 5 th, 2020.