CDSCO releases the timeline for Regularization of Rational Fixed Dose Combination in India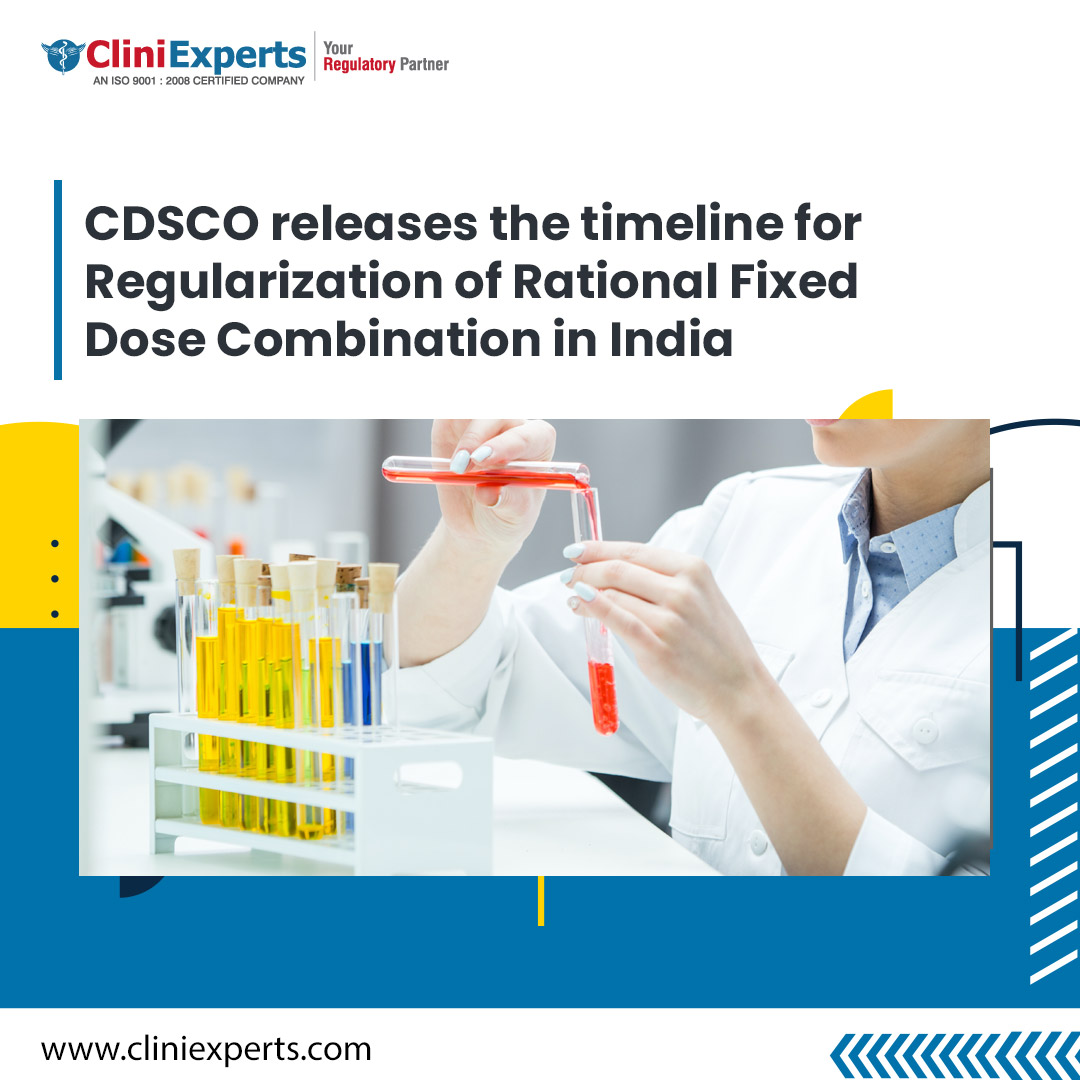 Indian pharma market is flooded with irrational Fixed Dose Combination (FDCs) and is an important topic for critical and scientific analysis. The country needs some regulatory laws for FDCs after analysing whether they are rational and genuinely required for our health care system. Now, the new FDCs proposed by the Government of India suggest certain effective measures to curb the menace for the first time in the country.
To put regulations on this matter, Central Drugs Standard Control Organisation (CDSCO) made a list of 294 FDCs, and directions are given to all State/UT Drug Controllers of India to withdraw 294 FDCs from the licensed market the consent of DCGI. Court then got it to stay order in favour of the Manufacturers Association. On 16 th January, 2008 this matter came up in the 56th meeting of Drugs Technical Advisory Board (DTAB). The subcommittee of DTAB looked into the matter. The report of DTAB was accepted by the court of law on 15 th December 2017. Presently, DTAB declared 83 FDCs Drugs as rational and notified the process to be followed by all the manufacturers and stakeholders for obtaining the manufacturing license.
According the recent notification dated 8 th September, 2020 any submission of product license issued by SLA indicating dosage and strength of FDC to any firm before 28.11.2007 will be considered final. On 29 th July, 2020, a report of DTAB was generated which depicts there are 3 more rational FDC combinations under 294 FDCs category. The challenges of the earlier notification are that there is no mention of strength and dosage forms in the list.
| | |
| --- | --- |
| Sr No | Name of the FDC |
| 1. | Atenolol+Losartan+Hydrochlorothiazide |
| 2. | Duloxetine+Mecobalamin |
| 3. | Mecobalamin+Vit.B6+Folic Acid |
The procedure to regularize the 83 FDCs finalized by CDSCO:
Duly signed and stamped application of Form 44 with dosage and strength along with Rs.15000 fees for each FDC.
The name and composition of the FDC
Copy of product permission issued by SLA to any firm before 28.11.2007.
The copy of manufacturing license in Form 25/28 and Form 29 for manufacturers not having any product permission from SLA and want to apply for these FDCs.
Serial number of the FDC as per the list available in CDSCO website.
The data of stability studies of 3 batches for 6 months.
The test specification along with the method of analysis of the FDC.
All the manufacturers who have licenses from SLA for these FDCs but don't have NOC from DCGI, need to submit applications within 4 months to the Directorate.
Moreover, few manufacturers who have license by SLA for the above FDCs applied for approval. These manufacturers can give application by 31.03.2021.
References:
Procedure to be followed for regularization of FDCs declared as rational in respect to 294 FDCs by the DTAB which were licensed to manufacture and market by SLA without prior approval from DCG(I) Available at: https://cdsco.gov.in/opencms/opencms/system/modules/CDSCO.WEB/elements/download_file_division.jsp?num_id=NjQ2Ng== Accessed on 4rth November,2020.