New Regulatory Guidance to Facilitate Drug & Vaccine Approval for COVID-19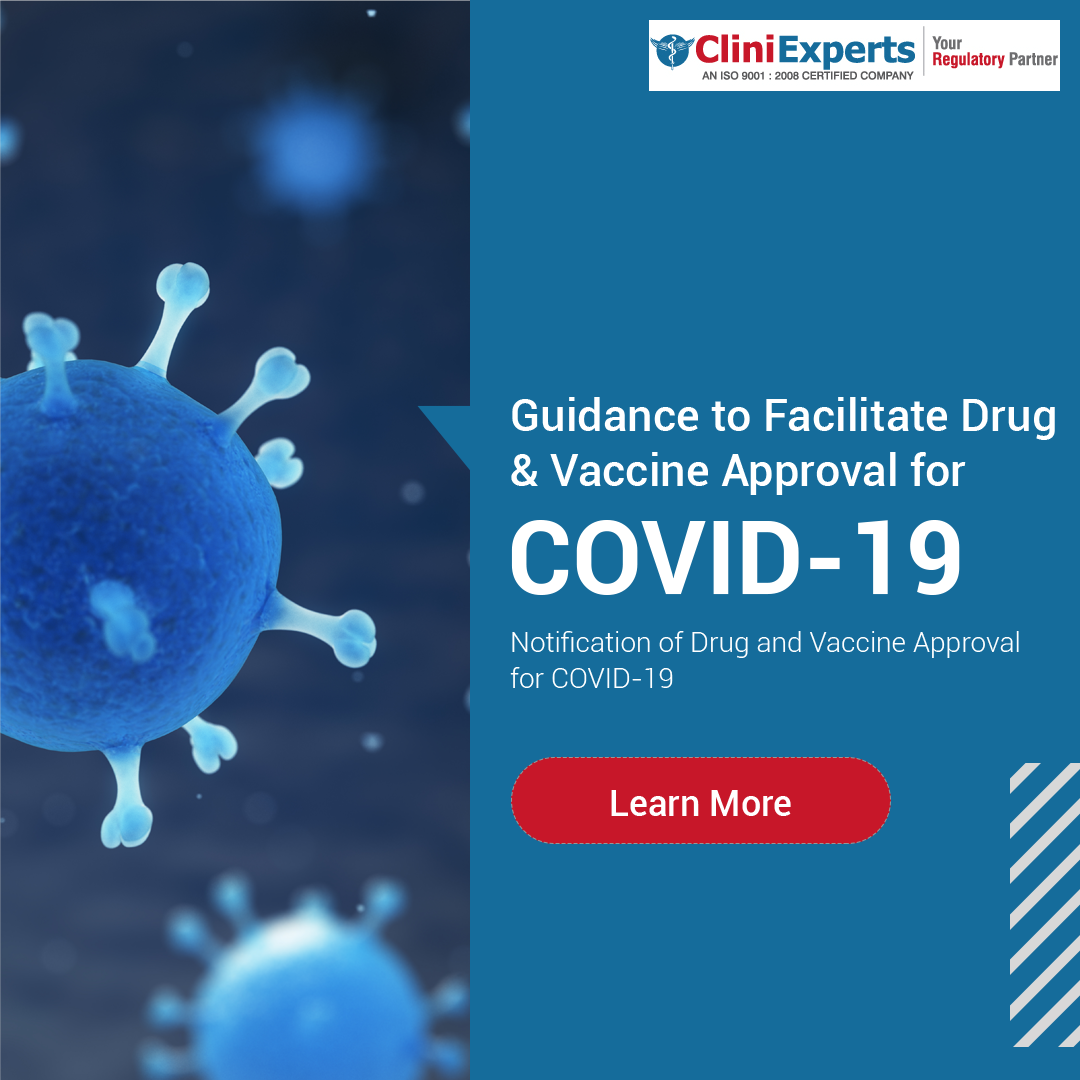 The SARS-CoV-2 virus started in December 2019 and then spread at an alarming rate, mainly to China, Italy, the USA, Iran, Japan, and South Korea and even India. There is no drug or vaccine yet approved by the FDA for COVID-19. Presently, there is not any evidence from randomized clinical trials for treatment guidelines of suspected or confirmed cases with the corona virus. Various researchers all over the world are trying to find a drug or vaccine specific to the virus. Reports state that around 16% of COVID-19 patients are suffering from severe disease and with the hospitals being overcrowded, an effective treatment is desperately needed.

So rather than coming up with compounds from scratch that may take years to develop and test, researchers and public health agencies are looking to repurpose drugs already approved for other diseases and known to be mostly safe. They are also looking at unapproved drugs that have performed well in animal studies with the other two deadly coronaviruses, which cause severe acute respiratory syndrome (SARS) and the Middle East respiratory syndrome (MERS). In this grave pandemic situation, the Central Drugs Standard Control (CDSCO) released a notification on 19th March, 2020 for encouraging research and development of drug or vaccine for prevention and treatment of COVID-19.
Key points on the CDSCO Notification of Drug and Vaccine Approval for COVID- 19
Organizations or start-up developing drug or vaccine can approach Drug Controller General of India (DCGI) through the Public Relations Office for any information or guidance related to regulatory approval.
The Central Authority will give priority to firms or research organizations with the protocol for the repurposing of existing drugs or vaccines for the treatment of COVID-19.
Rapid review and approval of any applications for clinical trial permission and import or manufacturing of drug or vaccine for sale and distribution and will be given high priority.
Organizations can approach the DCGI through the Public Relations Office if they have already approved drug or vaccine in any other country for review and approval
Depending on the individual cases, the data for animal toxicity study, stability study and clinical study of the drug or vaccine can be abbreviated, deferred, or waived based on the type of vaccine, nature of the drug, and plant from which drug is extracted and its experience in case of phytopharmaceuticals.
The central dug authority will consider applications related to manufacture or import drug or vaccine for the test, analysis, and further use BA/BE or clinical trial for the COVID-19 on an urgent basis and will process it within 7 days.
CDSCO will grant Import license in Form 10 without registration certificate in Form 41 in emergency subject to approval by the Central government.
You can contact the Public Relations Office of CDSCO for any additional information through
Toll- free number 1800 11 1454 or an email to startupinnov@cdsco.nic.in.
Reference:
https://cdsco.gov.in/opencms/opencms/system/modules/CDSCO.WEB/elements/download_file_division.jsp?num_id=NTc2OQ==