Guidelines for Prevention of Consumers from Misleading Advertisements and Endorsements for Misleading Advertisements, 2022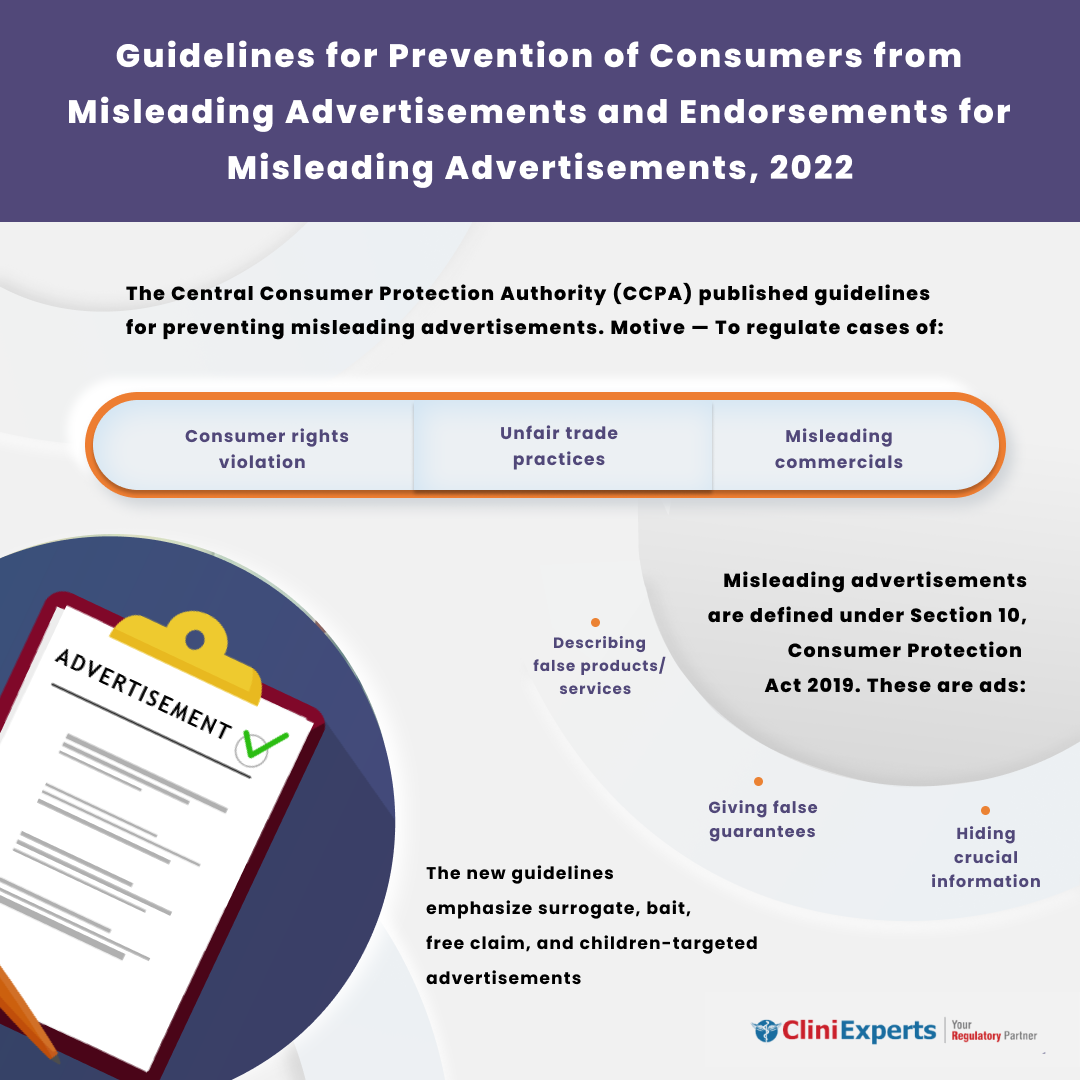 India's central consumer protection body published rules for preventing misleading commercials and endorsements for misleading advertisements 2022 on June 9th, 2020. CCPA announced the Guidelines to fulfill the duties given to CCPA by Section 18 of the Consumer Protection Act, 2019. Section 2(28) of the 2019 Consumer Protection Act defines the phrase "misleading advertisement."
The following points are covered in the guidelines:
Misleading Advertisement is defined under the Consumer Protection Act 2019; it states that 
Any ad describing any false product or service;
Giving false guarantees that are misleading for the consumer;
Representing or conveying any unfair trade practice;
Intentionally hiding important information
As per these guidelines, the advertisement which is prohibited by law but is still shown as an advertisement for other goods or services which are not restricted by law is called surrogate advertisement.
Conditions to consider an advertisement as a surrogate are- 
Indirect or direct advertising indicates those products whose advertisements are prohibited by the law.
Such an Advertisement uses any properties of the name, logo, and layout of the products whose promotions by the law are under restriction or prohibited. Mere use of a brand name or company name which may also be applied to goods, product or service whose advertising is prohibited or restricted shall not be considered to be surrogate advertisement or indirect advertisement, if these advertisements are not objectionable.
The word "bait advertisement" refers to a commercial in which goods or services are offered for sale or at a reduced cost to draw in clients.
For example, when a consumer tries to buy a microwave at a price shown in the Advertisement, they are informed that it is out of stock and offered another unit at a higher price.
Free claim advertisements- if the customer has to pay any "fees" or charges other than unavoidable costs, it cannot be called a free claim advertisement.
For example, if the product for instance a food delivery app mentions get a free delivery for first five orders and levies higher prices for food being ordered or charges for packaging or levy minimum charges for membership, this will fall under the free claim purview.
Children-targeted advertisements mean those advertisements whose target audience is children, thus it should not –
Encourage or inspire dangerous behavior.
Encourage practices that are detrimental to children's physical health or mental welbeing
Develop negative body image.
Develop unrealistic expectations.
The Advertisement shall not advertise an advertisement during the program or child-specific channel.
For example, an Advertisement for junk foods, including chips and carbonated beverages.
Rule on disclaimer- A disclaimer should be able to clarify a claim, not hide it made in the Advertisement without contradicting the claim. It should not be an attempt to correct a misleading claim.
The language of the disclaimer and claim should be the same.
The font of the disclaimer and claim should be the same.
Disclaimer should be placed on a visible site on the label or packaging.
The disclaimer should be visible to a normal-sighted person.
Claim and disclaimer should be present simultaneously if a voice-over is used.
Roles and responsibilities of manufacturer/ service providers/advertiser or advertising agency– every person who is related to an advertisement should keep the following things in mind:
Claims made should be verified and relevant and have proper proof.
The Advertisement should not exaggerate that it misleads the audience.
Should not abuse the lack of knowledge of customers.
Instead of using an expression such as up to five years, a guarantee should use clear words indicating the fixed period.
Penalty on non-compliance with guidelines- although there is no separate penalty over non-compliance, there is a fine ranging from 10 lakhs to 50 lakhs in case of guidelines violation.
Advertisements that will be considered valid –
It should contain accurate and honest representation.
Should not mislead the consumers.
Should communicate the risk involved closely, if any.
It should comply with sector-specific regulations.
Case study for better understanding:
During the covid, several misleading advertisements came across to the consumers, including products like mattresses, sanitizers, juices, supplementary food products, etc.
Local Circles conducted a study on misleading ads in August 2020, whose study was submitted to the consumer affairs department.

87% of consumers agreed that disclaimers are challenging to read, see or hear.
In 2019, 86% of consumers came across child inappropriate ads.

73% of consumers came across bait ads.
49% of consumers came across false free claim ads.
Only 28% of consumers came across valid ads.
Summary-
The main aim of these Guidelines is to prevent the consumers from misleading advertisements and endorsements to avoid exploitation.
The main motive behind establishing the CCPA is to regulate the cases of consumer rights violations, unfair trade practices and false or misleading advertisements as defined in the Consumer Protection Act,2019, under section 10.
These guidelines apply to all formats and mediums, manufacturers, service providers, or traders whose products are advertised for selling purposes.