Manufacturing And Product Development Support for Medical Devices / IVDs (Class C & Class D)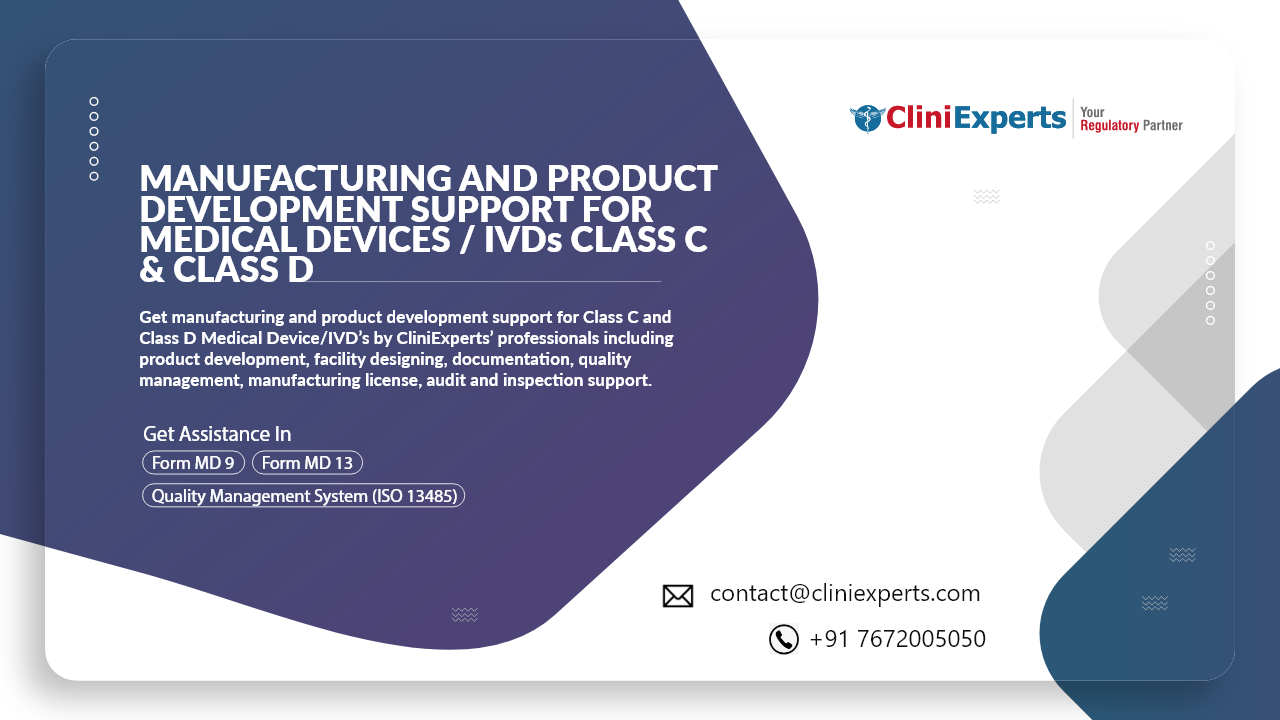 Manufacturing And Product Development Support for Medical Devices / In-Vitro Diagnostic Kit
The medical device industry of India is a crucial and integral part of the Indian healthcare industry. It provides preventative, diagnostic, therapeutic, and managerial services for the treatment and management of chronic diseases, various medical conditions, illnesses, and disabilities.
A medical device is one of the major pillars of healthcare delivery systems together with healthcare providers, pharmaceutical companies, and insurance industries. So that all citizens will be able to get affordable, high-quality, and comprehensive healthcare by National Health Policy (NHP) 2017.
To accelerate the growth of the medical device sector, an approach paper has been drafted to facilitate orderly growth and get a clear direction aimed at facilitating objectives of safety standards, quality, affordability, and accessibility, while maintaining the emphasis on innovation, and sustainability.
Class C and Class D Classification Of Medical Devices & IVD
Class C classifications have moderate to high-risk medical devices / IVDs while Class D classifications have high-risk medical devices / IVDs. Class C and Class D medical devices / IVDs are regulated by Central Licensing Authority (CLA) or Central Drugs Standard Control Organisation (CDSCO). If you want to manufacture or import class C or class D medical devices, you need to get a license from the regulated authority.
Class C Medical Devices / In-Vitro Diagnostic Kits –
If a non-invasive medical device / in-vitro diagnostic kit comes into contact with wounded skin, it should be determined as a medical device class c classification. These medical kits and instruments are intended for use primarily on the wounds that have penetrated the dermis and can't heal on their own.
Non-invasive medical devices capable of channeling or storing substances defined in sub-clause (a) shall be classified as Class C medical devices if it is a blood bag that is not incorporated with medical products.
Surgically invasive medical instruments intended for transient purposes shall be classified as class c as an active medical device intended for use with it.
A medical device that is intended to be surgically invasive is assigned to class c if it contains ionising radiation, is intended to have a biological effect or to be absorbed by the body, or is used to deliver a medicinal product.
Active diagnostic medical devices mentioned in sub-clause (a) shall be determined as Class C medical devices, if they are predetermined for the emission of ionizing radiation, control and monitoring defined in sub-clause (d), and administration or ejection of the medicinal product body liquid or other substance mentioned in sub-clause (f).
Class D Medical Devices / In-Vitro Diagnostic Kits –
Surgically invasive medical devices for transient and short-term use will be notified as class D medical devices if they are intended to have direct exposure to the central nervous system or diagnosis, detection, or correction of heart and central circulatory system defects.
Implantable and surgically invasive medical devices for long-term usage shall be determined under medical device Class D classification if they are designed –

To have direct contact with the heart of the central circulatory system.
For breast implant
To be consumed or absorbed by the human body primarily or completely
For a chemical change in the human body
To use as a life-supporting or life-sustaining device.

A medical device incorporated with a medicinal product defined in sub-clause (b) shall be determined as Class D, if the device includes a component that, used separately, is a medicinal product; and is conditional on the act of the human body with something ancillary to that of the medical device.
As per sub-clause (a) contraceptive devices that are implantable or invasive medical devices intended to be used for long-term use shall be assigned to class D.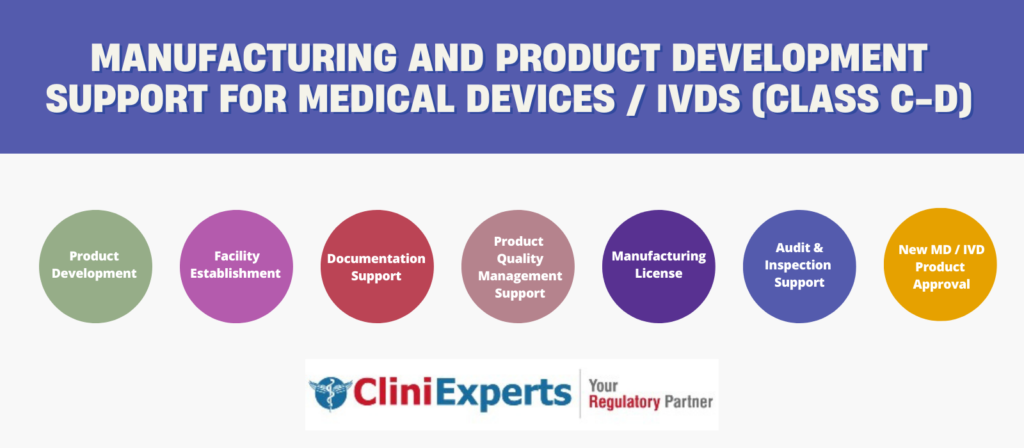 Class C / Class D Medical Devices / IVDs List –
sr.
No
Medical Device Name
Intended Use
Risk
Class
1
Insulin Pump Therapy Adjustment Calculator For Healthcare Professionals
This device is an application with a graphical user interface. It is designed to calculate insulin requirements (e.g., basal rate, insulin to carbohydrate ratios, insulin sensitivity factors) depending on data from external devices such as continuous glucose monitors.
C
2
Dental Abutment Design Software For Dental Laboratory
This medical device is used to help in the remodeling of chewing function by permitting a dental laboratory to create a patient-specific component of a dental abutment (i.e. abutment collar and abutment post) and CAM.
C
3
Thoracic electrical impedance tomography system
A group of medical devices is created to take continuous bio-impedance measurements throughout a cross-section of the thorax, to give real-time feedback on the lung function of a ventilated patient.
C
4
Therapeutic positive pressure breathing ventilator
A medical device utilized for therapeutic rehabilitation of patients with chronic respiratory diseases, and circulation of aerosolized pharmacological agents to the patient's airways and lungs.
C
5
Eye valve
An implantable device regulates the flow of fluid between the anterior chamber and space around the conjunctiva of an eye by permitting flow when the pressure in the chamber is above pre-set value.
C
6
Aqueous/vitreous humour replacement medium kit
A group of sterile devices, consisting of fluid or semifluid substances, is utilized in combination to supplant the fluid of the eye.
D
7
Behind-the-ear bone- conduction tinnitus masker
Provide ultrasonic broadband noise and/or sweep-frequency stimuli noise of sufficient intensity and bandwidth to mask tinnitus.
C
8
Ear prosthesis
Used to reconstruct external ear by replacing damaged or missing tissue.
C
9
Spinal needle bioimpedance navigation unit
Transmit and receive electrical signals to/from a dedicated spinal needle to analyse bioimpedance data in real-time, to foresee needle tip location.
D
10
Epidural anaesthesia kit
A group of medical devices is used to deliver an analgesic or anaesthetic agent to the epidural space for pain management.
C
11
Tracheostomy kit
A group of surgical instruments, dilators, tracheostomy tubes and other items are used to create a percutaneous opening in the trachea (tracheotomy) for the insertion of a tracheostomy tube to relieve the upper airway obstruction and facilitate ventilation.
C
12
Cardiopulmonary bypass pulsatile flow generator
An electrically and pneumatically operated device is intended to create pulsatile blood flow. This medical device is placed in a cardiopulmonary bypass circuit downstream from the oxygenator.
D
13
Hemodialysis Catheter (Long Term)
This medical device is used for exchanging blood to and from the haemodialysis machine the patient. The dialysis catheter consists of two lumens: Venous and Arterial
C
14
Haemodialysis Concentrate
Used to remove metabolic waste from the blood to help in maintaining physiological blood electrolyte and pH levels while haemodialysis is performed
C
Medical Device/IVDs Manufacturing and Product Development Support for Class C & D
CDSCO which is administrated by the Ministry of Health and Family Welfare (MOHFW) is in the process of regulating class C and D Non-notified medical devices / IVD under Medical Device Rule (….Amendment) 2019 for manufacturers and importers. Class C and D medical devices / IVDs manufacturers will need to obtain a valid manufacturing license from the regulated authority (CDSCO) on or before 1 October 2023.
CliniExperts' team has phenomenal expertise in providing support for manufacturing medical devices and IVDs. We are willing to join together with medical device and IVD manufacturers across India to offer end-to-end regulatory support for Medical Devices and In-Vitro Diagnostic Kit according to the manufacturer's need.
CliniExperts is making sure that all measures are taken to support MD/IVD manufacturers and help them to achieve their objectives so that India becomes self-sufficient in terms of manufacturing Medical Devices and IVDs.
CliniExperts' Manufacturing And Product Development Support for Medical Devices / IVDs (Class C & Class D)
Medical Device / IVD – Product Development Support –
Analysis of feasibility and concept
MD / IVD product prototype and initial product testing
Model design and development, containing verification and validation to make sure the final product matches the specific design input.
MD / IVD product validation and launch plan
Product launch and post-launch assessment
Facility Establishment And Designing as per MDR 2017 (India) and cGMP –
Facility Design
Facilities Development
Cleanroom for product start-up and validation
Product design, size, and location
Documentation Support To Create Plant Master File And Device Master File
Quality Management System
MD / IVD ISO 13485 Certification
Providing support to comply with the requirement of 5th schedule of MDR 2017
To Avail MD / IVD Manufacturers License From CDSCO
Sharing Document Checklist
Gap Analysis
Application Submission
Follow up and approval of manufacturing license
Support For Audit And Inspection
Gap analysis
Audit support for MD / IVD performed by regulated authorities / CDSCO officials
Product Approval For New Class C & D Medical Device / IVD's From CDSCO
Sharing required checklist
Gap analysis
Application submission for product approval
SEC meetings preparation
Clinical trials waiver
CliniExperts' professionals are proficient and have years of experience in offering regulatory support for manufacturing licenses for class c and d MD / IVD. We closely work with regulatory bodies to evaluate what is expected when they visit.