CLASS B MEDICAL DEVICE/IVD MANUFACTURING AND PRODUCT DEVELOPMENT SUPPORT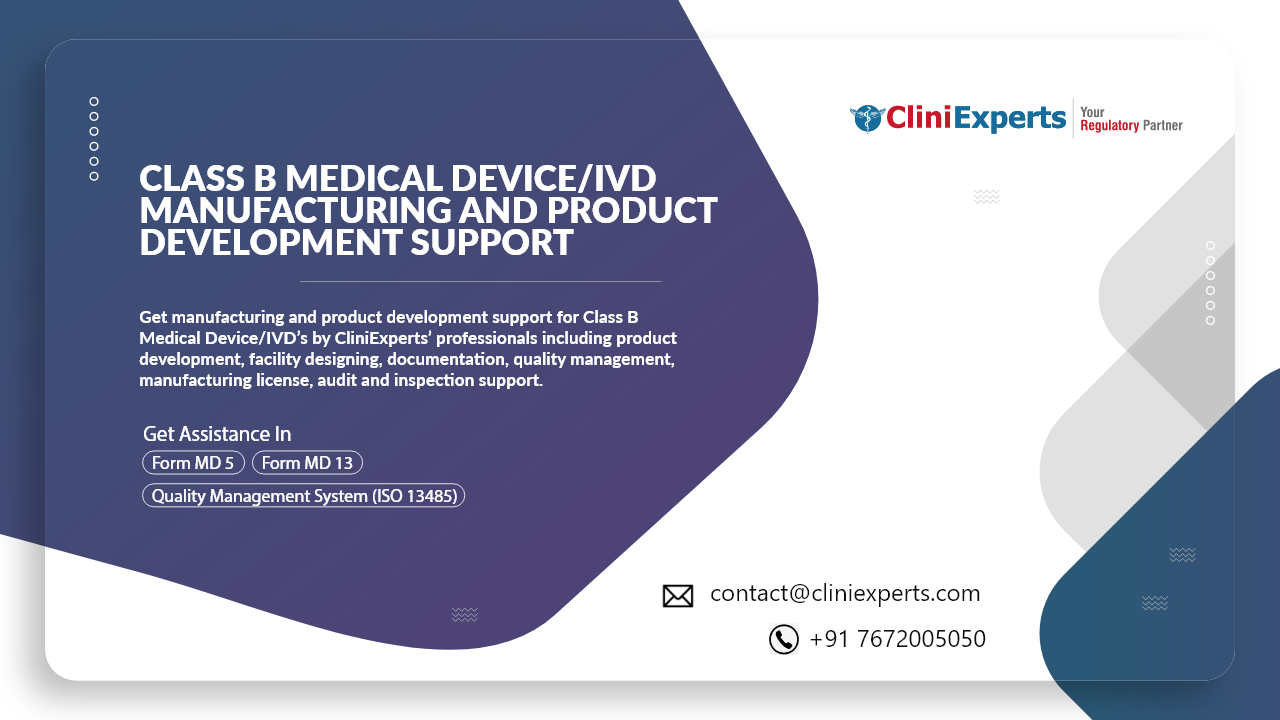 Class B Medical Devices / In-Vitro Diagnostic Kits
Class B medical devices have low to moderate risk to the patients and public health risks. Class B medical devices' permissions or approvals are done by State Licensing Authority. The medical device under class B classification demands prior audit by a third party but doesn't involve an official investigation. State Licensing Authority (SLA) designates a Notified Body to validate the requirements of the Quality Management System and Technical Review of Class B medical devices.
Class B Medical Device / IVD Classification –
As per the Medical Device Rule, 2022; here are medical devices that come under Class B medical devices classification.
Non-invasive medical devices which encounter wounded skin subject to sub-clause (c) or medical devices for directing or keeping substances referred to in sub-clause (a) shall be mentioned under Class B.
Non-invasive medical devices for deforming compositions of substances as mentioned in sub-clause (a) shall be defined in Class B.
Invasive medical devices for temporary or short-term use referred to in sub-clause (a) shall be mentioned in Class B if it has prospected,
For external surfaces uses nearby any eyeball or it is subjected to be immersed by the mucous membrane.
Class B shall be assigned to Invasive Medical Device for short-term use following sub-clause (2), provided that the device is intended for such use:
To be applied on external surfaces of any eyeball; or
A mucous membrane may absorb this compound.
Under the new medical device regulations, Invasive (body orifice) medical products intended for long-term use shall be classified as Class B.
Active medical device that requires invasive (body orifice) connections shall be categorized as class B medical devices.
Irrespective of its use duration
If it is deliberated to be associated with an active medical device that is in Class B, C, or D.
Surgically invasive medical devices for short-term usage are subjected to sub-clause (b) to (g) proposed for temporary usage shall be defined under class B.
Surgically invasive medical devices for the temporary application are referred to under sub-clause (b), (d), and (e) determined for short-term use and shall be defined as Class B.
Surgically invasive and implantable medical devices for long-term usage shall be referred to class B by the MDR (Medical Device Rule), 2022.
Active therapeutic medical devices for supervising or interchanging energy Subject to sub-clause (b) shall be referred to Class B if it is intended.
Active diagnostic medical devices mentioned under sub-clause (b), (g), and (c), an active diagnostic medical device shall be determined to class B intended for,
Provide energy that can be absorbed by the human body
Take an image of radiopharmaceuticals in vitro distribution
Monitoring or diagnosing vital phycological process
Medical devices containing medicinal products defined in sub-clause (a) shall be allocated to class B if it is determined to be placed into any tooth.
The medical device rules also define that Medical devices; utilized for sterilization or disinfection shall be determined to class B.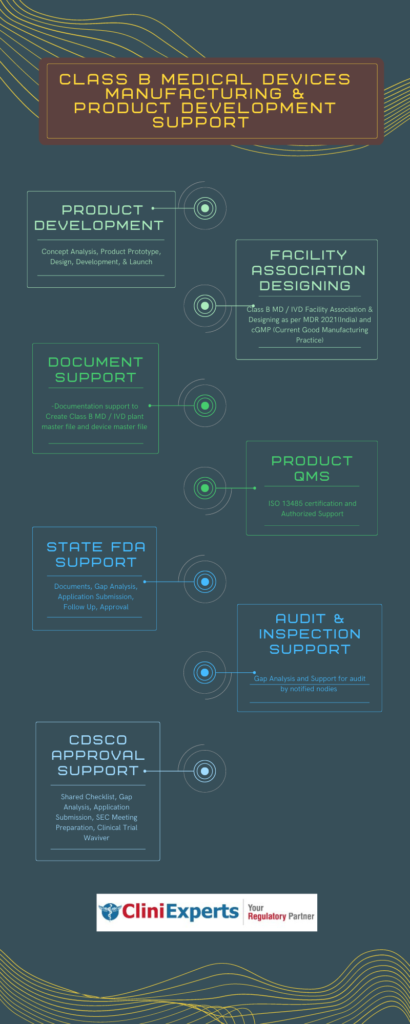 Class B Medical Devices List –
| | | | |
| --- | --- | --- | --- |
| S. No. | Medical Device Name | Intended Use | Risk Class |
| 1 | Urodynamic measurement system | A collection of devices is designed for advanced diagnosis and study of the bladder to find out the reason for abnormal voiding consisting of incontinence. It also helps in diagnosing conditions such as neurogenic bladder diseases, stress incontinence, urinary path obstruction, or spastic sphincters. | B |
| 2 | Continuous Glucose Monitor Secondary Display | This medical device provides real-time glucose information about the patient with a continuous glucose monitoring system sensor. | B |
| 3 | Pulmonary function analysis system | Pulmonary function analysis system is used toanalyse the function of the respiratory system in adults and compliant children. | B |
| 4 | Cold-air therapy unit | Proposed to lessen localized pain/inflammation, and/or to turn down thermal skin damage by using the cold stream of air during dermatological laser treatments. | B |
| 5 | Powered neutron therapy table | An automated bed for radiotherapy is proposed to settle the patient's posture and immobilize the patient for radiation treatments using neutron rays generated by the nuclear reactor, etc. | B |
| 6 | Surgical Drape & Drape Accessories | A medical device made of natural or synthetic materials is designed to be utilized as a protective patient covering to isolate a site of surgical incision from microbial & other contamination. | B |
| 7 | Surgical gown (Sterile) | A sterile garment created with natural and/or synthetic fibres is proposed touse during surgical procedures to help prevent the transfer of microorganisms, body fluids, and particulates from patient to operating room personnel. | B |
| 8 | Acupuncture kit | An assembly of instruments and supplies used to perform acupuncture treatments. | B |
| 9 | Sterile Hemostatic clip applier | A surgical medical device intended to apply a hemostatic clip for ligation of a blood vessel. | B |
| 10 | Sterile Surgical file | A hand-held manual surgical instrument with a series of bumps or teeth on its surface is utilized to smooth, grind off, or sever tissues. | B |
| 11 | Surgical robot unit | A medical device is used in open surgery or endoscopic surgery to suture, detach, sever tissues as well as install prosthesis devices. | B |
Manufacturing And Product Development Support For Class B Medical Devices/IVDs
CDSCO is a division of MOHFW (Ministry of Health and Family Welfare) which is responsible for regulating medical devices of Class A / Class B / Class C / Class B under the Medical Device Rule, 2022 whether you are manufacturer or importer. All Class B medical device manufacturers must have a valid manufacturing license from the State Licensing Authority before Oct 1, 2022.
CliniExperts has a decade of experience in providing end-to-end support and customized services based on the class B medical device / ivd manufacturers' requirements. With this extensive industry expertise, we love to collaborate with various medical device and IVD manufacturers across India.
CliniExperts assists medical device / IVD manufacturers to accomplish their goals of becoming self-sufficient in MD / IVD manufacturing through all means possible.
CliniExperts Offers Different Types Of Support For Class B Medical Device / IVDs Manufacturers Class B Medical device / IVD Product Development Support –
Feasibility and concept analysis of class B medical device
Class B medical device product prototype to test and refine its functionality; initial product testing
Class B medical product design and development, including verification and validation to ensure that outcome matches the specified design input
Final product validation of Class B medical device / IVD and launch preparation
Class B MD/ IVD product launch in the market and post-launch assessment
Class B MD / IVD Facility Association & Designing as per MDR 2021(India) and cGMP (Current Good Manufacturing Practice)
Facility Design
Facilities Creation
Cleanroom for startup and Class B MD / IVD product validation
Class B medical equipment design and size
Documentation support to Create Class B MD / IVD plant master file and device master file
Product quality management system
Class B Medical device ISO 13485 certification
Offering support to act accordingly with the requirements of the 5th schedule of MDR 2022
Support to get a class B medical device / IVD manufacturing license from State FDA
Documents as per the asked checklist
Gap analysis
Submitting the application
Follow up and approval of the license
Class B Medical Device Audit and inspection Support
Gap analysis
Support in Class B MD / IVD audit executed by notified bodies, registered with CDSCO under the provision of MDR 2021
Support for Class B new Medical Device / In-vitro diagnostic kits approval from CDSCO
Shared checklist
Gap analysis
Application submission
Preparation for SEC meeting
Clinical trial waiver
Biocompatibility testing is a critical component of the validation process of the medical device / IVD. To support class B medical device manufacturing, CliniExperts act as a Medical Device Authorized Agent and provide extensive support services aimed at class B medical device or in-Vitro diagnostic kits.
We firmly work with medical device / ivd regulatory bodies, so we have a better understanding of their expectation during the audit or inspection.