Medical Device Grouping as per MDR 2017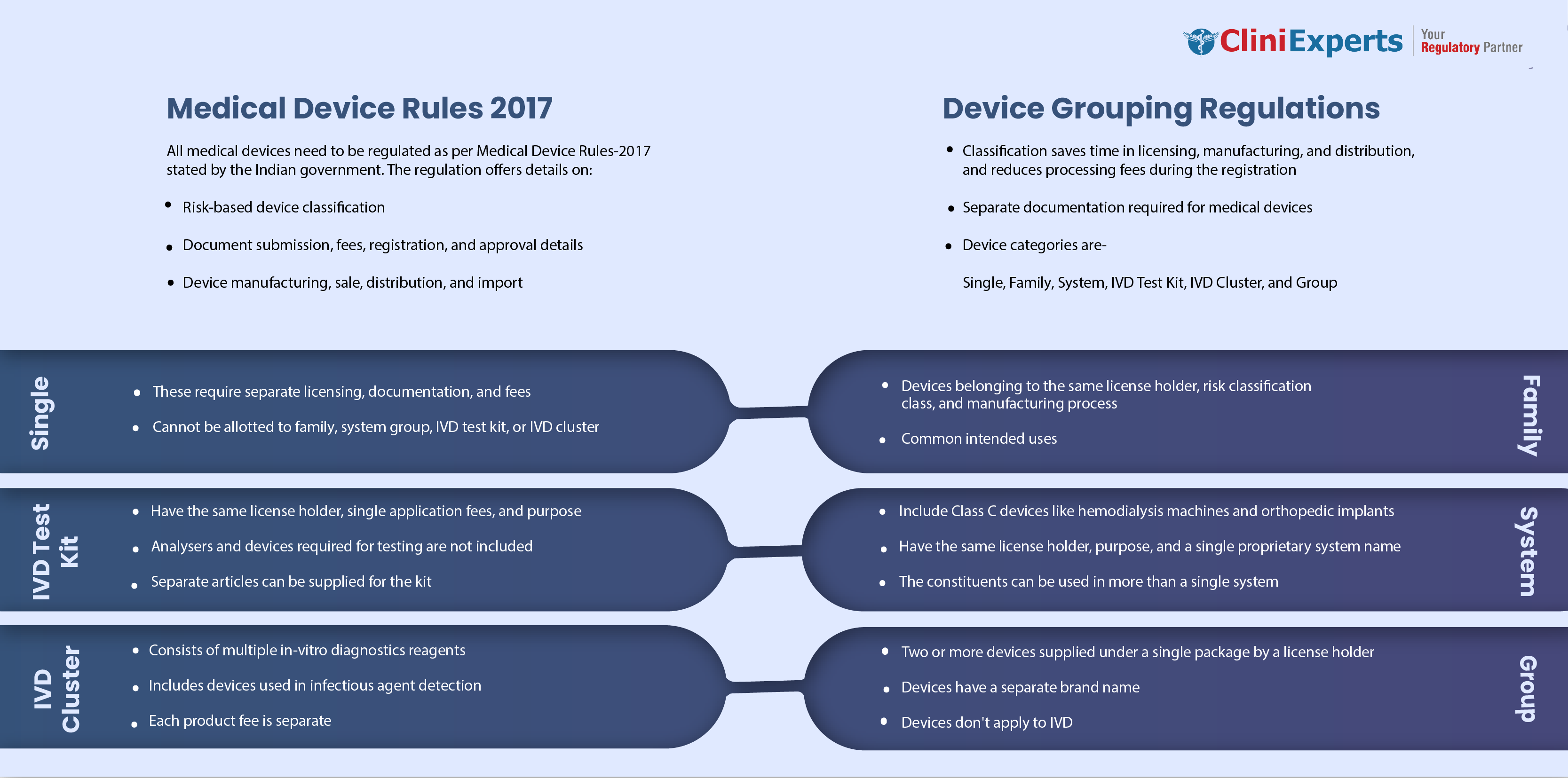 In the year 2017, the government of India announced that all the medical devices in India would be regulated as per Medical Device Rules-2017 (MDR-17), which gives a clear idea about the
Classified the medical device based on risks.
Procedure related to document submission, registration, fees, and approval of devices.
Details related to manufacturing, import, sale, and distribution of medical devices.
Grouping guidance for medical devices based on Medical Device Rule (MDR) 2017 by the Indian Ministry of Health (MoH) has been provided.
Grouping helps simplify the application process, which is more cost-effective and saves the time of the person applying for the license to import, manufacture, sell or distribute medical devices.
When grouped, the medical devices need to adhere to the specific rules belonging to particular categories.
The applicant can group the similar medical devices with a similar intended purpose or the same technology and submitted in a single application in the following manner.
Single
Family
System
IVD Test Kit
IVD Cluster
Group
Sr. No.
Type
Criteria
Fees/ Documents
Example
1)
SINGLE

Sold as a different package unit and can be offered in a range of package sizes.
Those medical devices must be appropriately licensed that cannot be allotted to family, system group, IVD test kit, or IVD cluster.
The medical devices sold separately as specific medical devices which are part of a group must be licensed separately.

There are separate documentation and fee requirements for every single device if a single device ranges in package size or the number of units
Condoms are sold in a packet of 3, 10, or 16 and can be licensed as a single medical device application.
2)
FAMILY
A family of the medical devices can be termed as the collection of medical devices, and each medical device,

belongs to a similar license holder;
belongs to the same risk classification class;
intended uses are common;
design and manufacturing process is the same;
dissimilarities are within the range of the **permissible variants

The fee for the family is single, whereas the device master file is common
Contact lenses with an additional UV protection feature can be grouped as a FAMILY, as the basic design and manufacturing of the lens are the same.
The features of a medical device that comes under permissible variants underneath clause (1),

if the construction material of the medical device or physical are the same or very similar;
if the processes of manufacturing, including the sterilisation method, for the medical devices are the same or very similar;
if the intended use of medical devices is the same; and
if the risk profile keeps in mind the medical device's above factors are the same.

3)
IN VITRO DIAGNOSTIC KIT
a. A device that contains components and articles is called an in-vitro diagnostic kit when;

they have the same license holder;
they are either used in combination to achieve their specific intended purpose;
sold under a single patented Test Kit name; and
Is compatible when used as a test kit;

1) When IVD test kits are sold or imported as a single unit, they can be registered under a single application and fees, but separate documentation for the IVD test kit components.

Coagulation tests systems
b. Instruments, such as analysers, the devices that need to perform the test, are not included in IN-VITRO DIAGNOSTICS
2) With separate fees and documentation, IVD test kits can be sold as a single unit and as individual components.
c. As a replacement, separate reagents or articles can be supplied separately for the kit. If their agents or compositions supplied for one Test Kit can be used in another Test Kit, then such reagents or reports shall be included in the claim of the other Test Kits.
4)
SYSTEM
a. The medical devices consist of systems that-

Has the same license holder;
To be used in combination to achieve the intended purpose;
When used as the system is compatible; and
Can be sold under a single proprietary system name;

1) Systems that are sold as a single unit or as a single packet can be registered under a single application and fees, with separate documentation for different system components.
Class III medical devices such as orthopaedic implants and hemodialysis machines
b. The constituents of a system that are supplied for use and can be used in more than one system; such components shall be included in the application for a license for each other system.
2) Separate fees and documentation are required if the manufacturer decides to sell the system as a single unit and individual components.
5)
IN VITRO DIAGNOSTIC CLUSTER
An in-vitro diagnostics cluster consists of several in-vitro diagnostics reagents or articles that

Have same license holder;
Have a common procedure;
Can be sold under a single brand name.
When used as a Test Kit are compatible.

Each product fee is separate, but the DMF (device master file) is the same.
Devices used for the detection of infectious agents.
6)
GROUP
a. A collection of two or more medical devices that are supplied in a single package by the same license holder can be termed a group of medical devices that -(i) Can be sold under a single brand Group name;(ii) Have a common intended use.
Separate Documents and single fees are required for each medical device in a group.
b. In the Group, the medical devices may have a different brand name, intendedthe different license holders sell to use, and design and can.
c. Not applicable to IVD
Summary
Grouping various medical devices during registration can save the fees and time required for processing.
The price is single for a group, but separate documentation is needed for each medical device.
The cost and document for IVDs are applicable as per Medical Device Rule 2017.