What Should You Know About Manufacturing Licenses For New API And Formulations In India?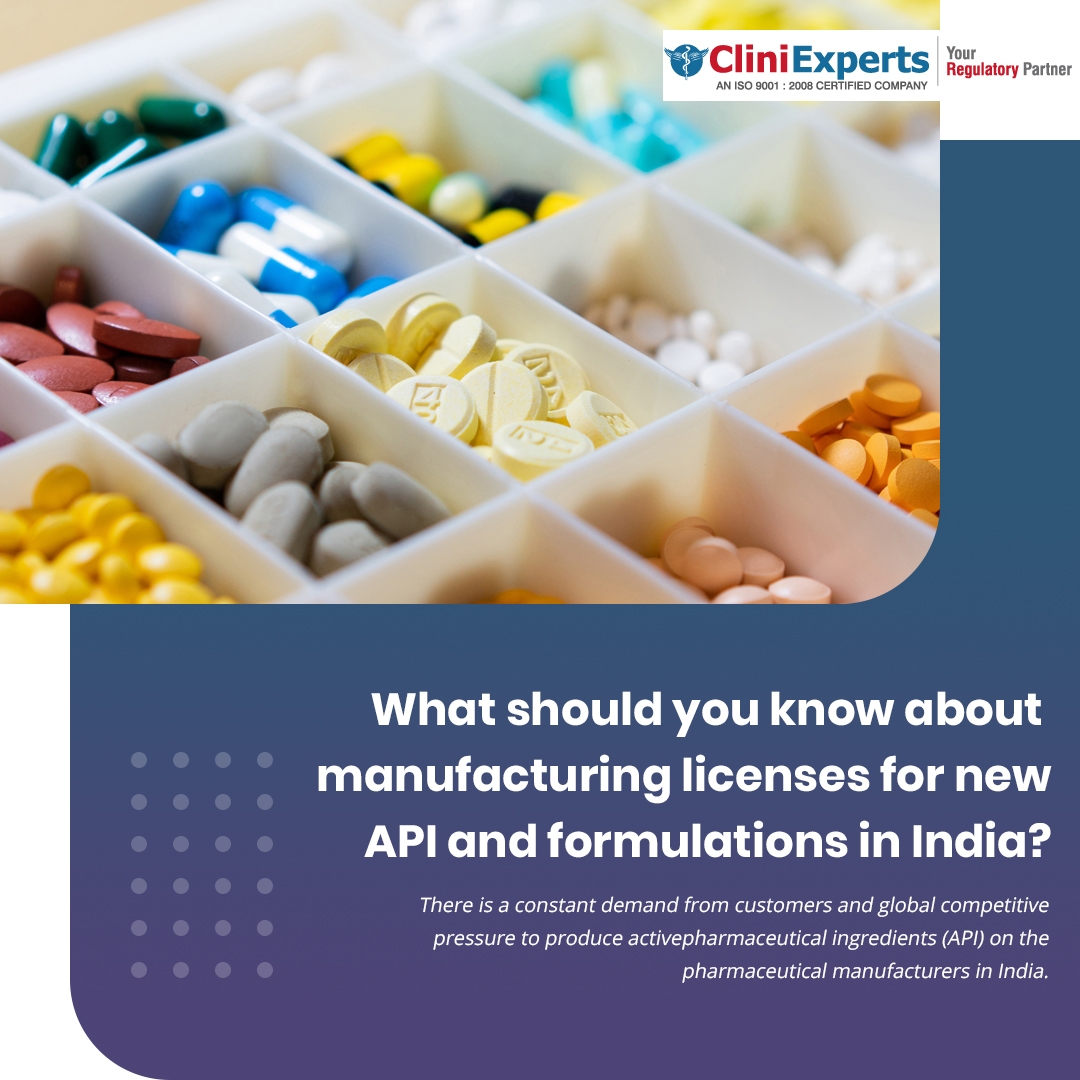 There is a constant demand from customers and global competitive pressure to produce active pharmaceutical ingredients (API) on the pharmaceutical manufacturers in India. The coronavirus pandemic has created the need for an API manufacturing hot-spot other than China as India has the potential to manufacture new API and formulations. Several factors make India an attractive alternative for sourcing active ingredients. India has low development costs, sophisticated synthesis capabilities, growing experience with cGMP compliance.
Active pharmaceutical ingredients are those components present in drugs due to which medications work. Though it is far from being such a simple thing and process as it sounds. There are a series of laws and regulations that surround everything regarding API, and license laws are just the beginning. Producing pharmaceutical ingredients requires a more significant reaction and purification steps, meaning designing a suitable process is more complicated. Also, the regulatory requirements surrounding the manufacturing pharmaceuticals are generally far stricter than those surrounding commodity chemicals.
To manufacture or import Active Pharmaceutical Ingredient (API)/drugs to India, the company or the organization should seek prior approval from the Drugs Controller General of India (DCGI) for licensing and distribution in the country. There are specific regulations and regulatory steps to manufacture new active pharmaceutical ingredients and pharmaceutical formulations in India.
Steps to get Manufacturing Licenses for API and Formulations in India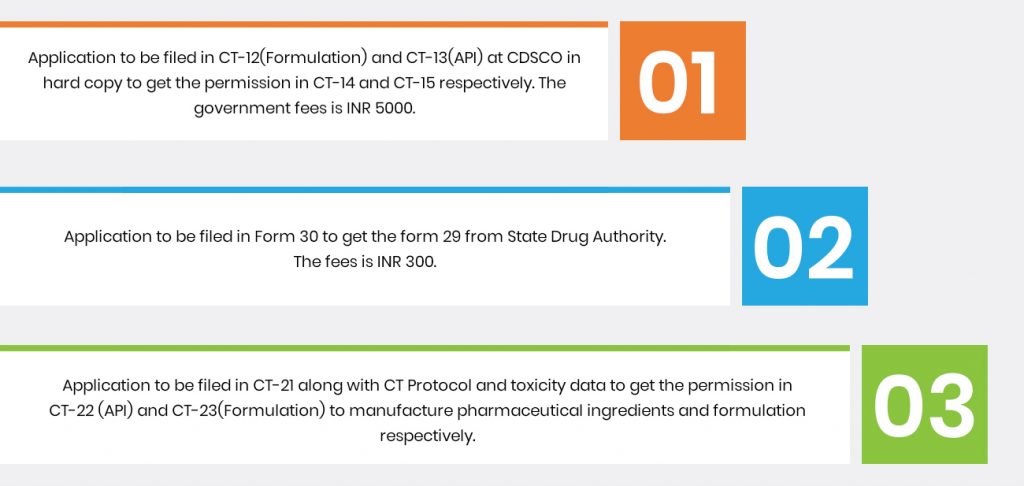 For getting manufacturing license for API and formulations, and registration certificate, it is very important to maintain the standard of API and formulations.
The importance of active ingredient manufacturers in the pharmaceutical industry is promising and can be expected to evolve even more in the future. Indian manufacturers should come forward and try to develop infrastructure and manufacturing units for large scale manufacturing of APIs.
If we have to position India as a global leader in API production, we must strengthen its dedicated R& D. There is a requirement of intensive research to produce chemicals cost- Application to be filed in CT-12(Formulation) and CT-13(API) at CDSCO in hard copy to get the permission in CT-14 and CT-15 respectively. The government fees is INR 5000. 1 Application to be filed in Form 30 to get the form 29 from State Drug Authority. The fees is INR 300. 2 Application to be filed in CT-21 along with CT Protocol and toxicity data to get the permission in CT-22 (API) and CT-23(Formulation) to manufacture pharmaceutical ingredients and formulation respectively. The fees is INR 500000. 3 3 effectively, mitigate risk and reduce environmental degradation. If you want to know about API and formulations or keen in getting a manufacturing license, call CliniExperts today.