CDSCO GUIDELINES FOR REGULARISATION OF RATIONAL FIXED DOSE COMBINATIONS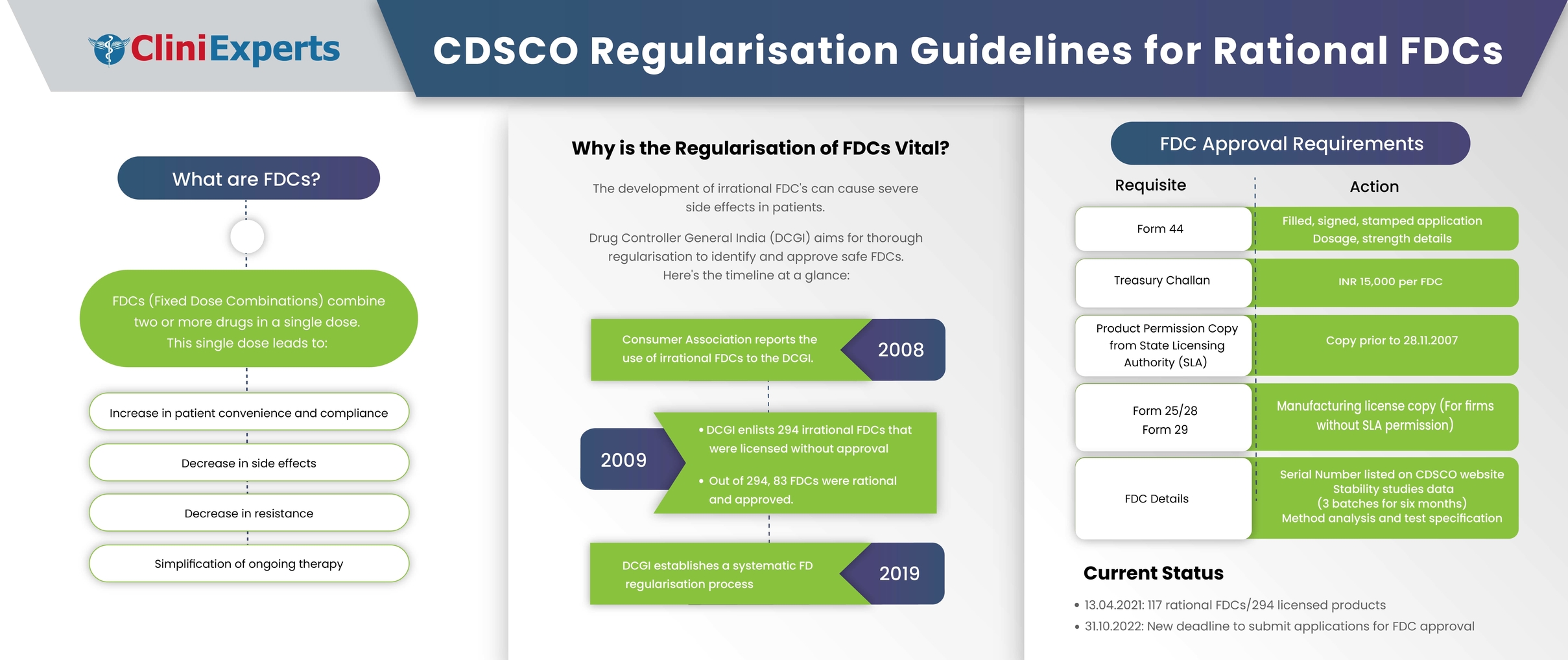 Rational fixed dose combinations (FDCs), also known as combination products, are the integration of two or more drugs in a single dosage form. The Food and Drug Administration (FDA), USA defines a combination product as 'a product composed of any combination or integration of a drug and a device or a biological product, or a device..
FDCs are used to achieve a synergistic effect, reduce side effects, reduce the possibilities of development of resistance, and increase convenience and patient compliance.
Why Fixed Dose Combinations regularization is important?
In India, clinical trials have increased manifold in the past few years, due to which the pharmaceutical market is outpouring irrational FDCs. The concern about irrational FDCs is that they expose patients to the risk of severe drug reactions. This is a critical subject in healthcare and needs an evaluative action.
In 2007, the Consumer Association registered a number of complaints regarding the irrational use of FDCs to the Drug Controller General(India) (DCGI). In response to these grievances, DCGI prepared a list of 294 FDCs which were licensed but not approved by DCGI.
In 2008, the 294 irrational FDCs were recorded in the 56th meeting of the Drugs Testing Advisory Board (DTAB). As per the report generated by DTAB, 83 FDCs were considered rational. Hence to regularise, these 83 FDCs were approved by the DCGI. To regularise these FDCs which were licensed to manufacturers and marketed by State Licensing Authority without prior approval from DCGI following procedure was put forth in February, 2019:
Duly filled, signed, and stamped application of Form 44 with dosage and strength along with treasury challan of INR 15000 for each FDC.
The name and composition of the FDC
A copy of product permission issued by SLA to any firm before 28.11.2007.
A copy of the manufacturing license in Form 25/28 and Form 29 for manufacturers/ stakeholders not having any product permission from SLA and wants to apply for these FDCs.
Serial Number of the FDC as per the list available on the CDSCO website.
The data of stability studies of 3 batches for six months.
Test specification of the FDC along with the method of analysis.
What is the latest update about rational fixed dose combinations?
A year later, on 29.07.20, DTAB reported three more rational FDCs under the 294 FDCs category. Similarly, another report was generated on 13.04.21, adding 31 more rational FDCs. The list of these 31 FDCs is included in Annexure A of the notification issued. Thus, to date, 117 rational FDCs are listed under the 294 FDCs category.
The newest letter of Directorate published on 28.04.2022 mentions that the filing of such application date has expired for the manufacturers who had not submitted the application form as per the defined pathway for approval by DCGI but who already hold the licenses from SLA for such FDCs .
It also mentions positive news for the manufacturers/ stakeholders that due to the pandemic situation of COVID-19, the Directorate has received various requests for the extension period for the submission of applications. Thus, a new submission date has been implemented.
The State Drug Controller is requested to direct manufacturers/stakeholders who hold licenses from SLA and have still not applied to this Directorate, to submit their application with respect to these FDCs by 31.10.2022.Those who already have permission to manufacture these FDCs should submit their application to this Directorate and the requisite fees by 31.10.2022 .
References:
[Internet]. Cdsco.gov.in.2022 [cited 2 May 2022]. Available from: https://cdsco.gov.in/opencms/opencms/system/modules/CDSCO.WEB/elements/download_file_division.jsp?num_id=NjQ2Ng==
[Internet]. Cdsco.gov.in. 2022 [cited 2 May 2022]. Available from: https://cdsco.gov.in/opencms/opencms/system/modules/CDSCO.WEB/elements/download_file_division.jsp?num_id=ODMyNw==