Relaxation Of Drug License For Selling And Stocking Hand Sanitizers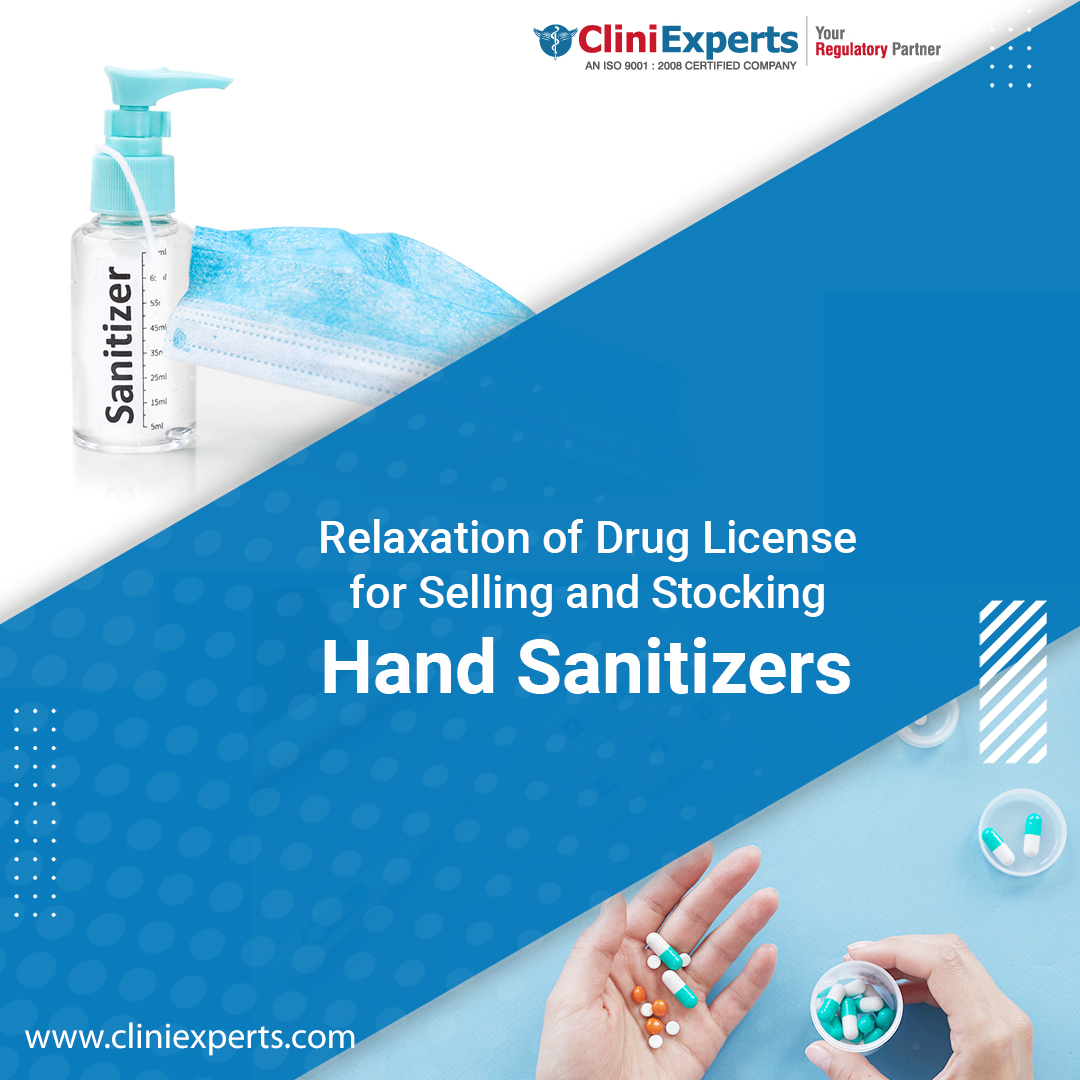 After the outbreak of COVID-19, the World Health Organization (WHO) has said that hand hygiene is important to prevent the virus's spread. Hand hygiene guidelines of WHO recommends the use of an alcohol-based hand rub for 20-30 seconds when hands are not dirty. India is also no exception.
The WHO endorsement and government recommendations for alcohol-based hand sanitizers has caused high public demand for India's products. There is an alarm over coronavirus causing a race in manufacturing and marketing hand sanitizers. People are making sanitizers by watching YouTube videos. However, experts disapprove homemade sanitizers as these home made products could be harmful or useless. According to Centers for Disease Control and Prevention (CDC), a real sanitizer should have at least 60 percent alcohol.
Stock and sale drug license in India
As per the Drugs and Cosmetics Act, 1940 (DCA) every drug stocked and sold in India must be under a drug license. Until now, only licensed pharmacists and druggists were allowed to sell hand sanitizer. There is no such exemption for hand sanitizers. Therefore, the entire supply chain of hand sanitizers, including retailers of hand sanitizers, are required to sell them under a stock and sale license under DCA.
The central drug regulator, the Drugs Controller General of India (DCGI), reviewed the regulatory positioning of hand sanitizers, as 'disinfectants' and availability of exemption from drug stock and sale license to them. A big strategy to get more hand sanitizer into retail stores is in serious jeopardy.
Recently, on 27thJuly 2020, the Ministry of Health and Family Welfare gave exemption on mandatory licenses for selling and stocking of hand sanitizers.
The Notification
The Ministry of Health and Family Welfare got several representations from traders requesting the Centre to include hand sanitizers in Schedule K of the Drugs and Cosmetic Rules, 1945.The order stated the Centre was convinced that hand sanitizers are an essential item in COVID -19 pandemic.
As per Section 26-B of the Drugs and Cosmetics Act,1940 the Central government now directs that the word 'hand sanitizers' shall be included in the column 'Class of Drugs' of Schedule K of the Drugs and Cosmetics, Rules, 1945.
Hand Sanitizers are more relevant and in-demand in India than ever before. However, manufacturers and marketers of hand sanitizers should be careful about compliance with laws and regulations, because any oversight today may invite strict regulatory action in future.
References:
S.O. 2451(E) _Exemption of hand sanitizer from sale licence_Section 26B.Available at: https://cdsco.gov.in/opencms/opencms/system/modules/CDSCO.WEB/elements/download_file_division.jsp?num_id=NjMzMA== .Accessed on: 31st August, 2020.