Release of Consignments of Vaccines and In-vitro Diagnostics in COVID-19 Pandemic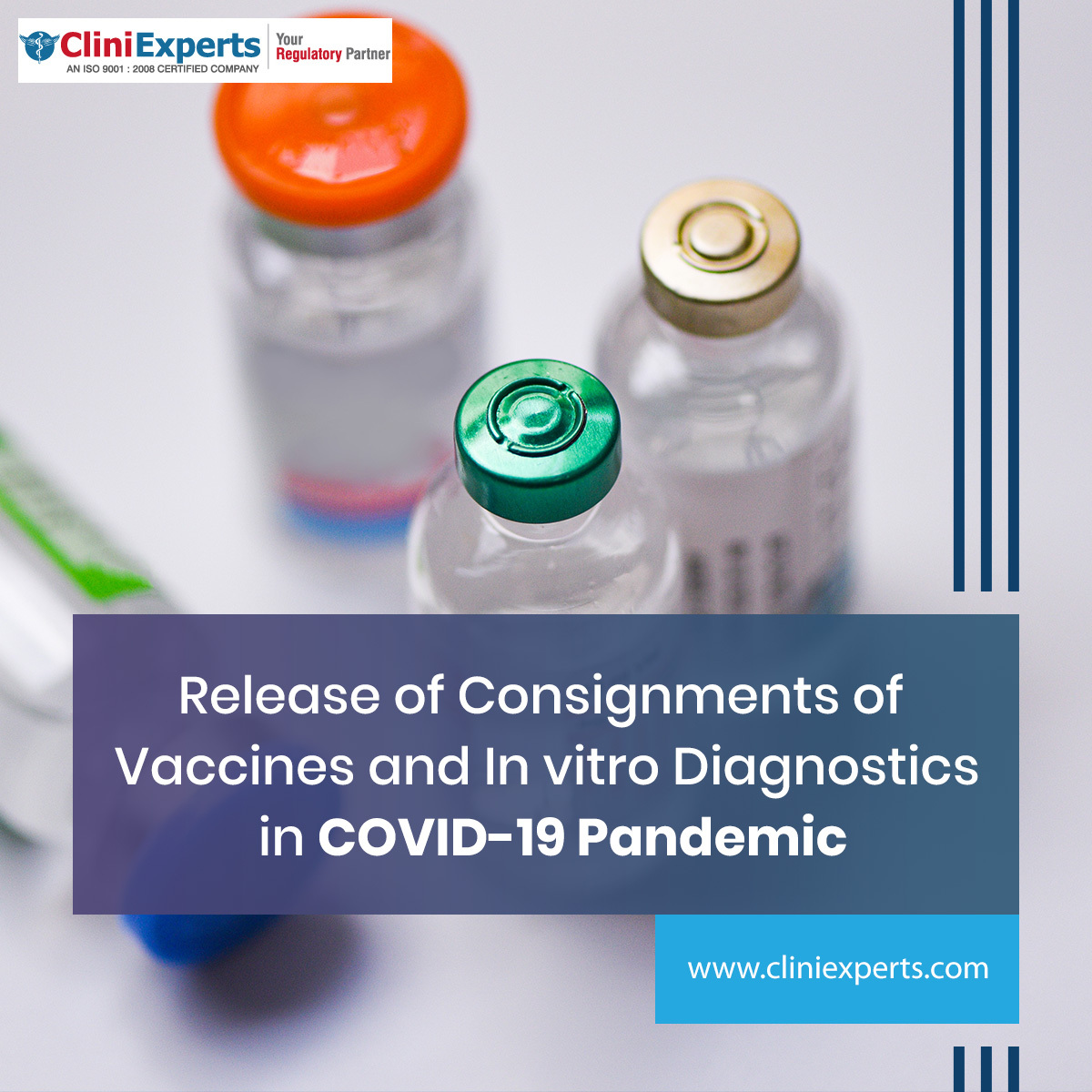 Currently, the COVID-19 outbreak is affecting the logistics and transportation of essential commodities, including vaccines and In-vitro Diagnostics(IVDs). Recently importers approached the Central Drug and Standards Control Organization (CDSCO) and shared with the concerned office about the difficulties related to vaccines and IVDs imports. These essential imported products are stuck at the ports as samples for quality verification related to imported batches cannot be sent to the notified laboratories due to lockdown declared by the government in India.
Looking into the importance of these products for the country's population, CDSCO released the notification for release of vaccines, IVDs and blood products (sampled 100% testing) from the ports after reviewing the documents, protocol, certificate of release batch by the manufacturer and past satisfactory history of the product. This will depend on the fulfillment of below-mentioned conditions.
Conditions for Release of Consignments from the Ports of India
The importers must draw a sufficient quantity of the vaccines, IVDs (HIV, HbsAg, etc.) and blood products and store them in the prescribed storage conditions for further analysis by the notified laboratories later. The port officers of CDSCO must mark the samples for security. The notified laboratories must get the samples for evaluation at the earliest when logistics and transport are restored after the lockdown.
In case the samples fail to get clearance from the notified laboratories at a later date, the importers have to recall their products from the market. Importers need to submit an undertaking mentioning the same
CDSCO requested the port officers of the country to follow this procedure in the notification for easier availability of the essential vaccines, in vitro diagnostics, and blood products for the benefit of the country's population. The nationwide lockdown for COVID-19 pandemic has created challenges at various levels like logistics, less manpower at each level, including the notified laboratories, however our regulatory authorities are taking important steps to make it easier and seamless for the importers and consumers.
Reference:
Release of consignments of Vaccine and critical IVDs-certain instructions issued.pdf. Available at: https://cdsco.gov.in/opencms/opencms/system/modules/CDSCO.WEB/elements/download_file_division.jsp?num_id=NTc4OA==.Accessed on April 05, 2020.