CliniExperts: Unmatched Regulatory Consultants in India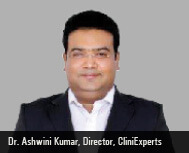 The year 2005 introduced a new era of product patent system in India. This helped science-based industries flourish exponentially resulting in an unprecedented demand for outsourced value-added services to pharmaceutical companies. However, this remarkable growth had triggered a need for tighter control and regulation within the industry to engender confidence and ensure safety. While Indian pharma industry is quite stringently regulated, many organizations are attempting to steer itself through the regulatory path from concept to a final product approval. This is where CliniExperts, one of the best regulatory consultants in India, come into picture to help pharma companies manage the entire process with cost-effective solutions.CliniExperts Services was initiated in 2009 by a group of professionals who beholds years of experience in the field of pharma and clinical research industry. The team's in-depth and up-to-date knowledge of the laws and regulations pertaining to development, testing, approval, manufacturing, commercialization and post-marketing surveillance of pharmaceutical, Nutraceuticals, Biologicals Medical device, Cosmetic products and FMCG products successfully has earned them a incredible status amongst regulatory consultants in India. The team at CliniExperts has a reputation to effectively liasion with FDA (CDSCO, New Delhi), DGFT, ICMR, Central Board of Insectisides Faridabad, Zonal CDSCO, State FDA and other regulatory authorities and more.
CliniExperts has grown into a credible organization, acknowledged throughout the industry for its expert approach to all technical and non-technical matters. The company excels in providing complete and flawless product dossiers in Common Technical Dossier (CDT) format, Asian Common Technical Dossier (ACTD) format, or to any latest country-specific format for global registration of products. CliniExperts' proficiency covers the entire range of disciplines – pharma regulatory procedures, clinical trials management, training, auditing and medical writing – all focused on delivering an end-to-end solution that will speedily bring a product to market.
Indian food/nutraceutical regulation has evolved over a period of last 2 years. The evolution phase has affected many manufacturing and trading companies all across the India. With the implementation of new advisories pertaining to product approval, all importers and manufacturing companies launching new ingredients/formulation, which are not listed under FSSAI Act, would require to obtain product approval from FSSAI, New Delhi before launching the product in the market. Since the inception of FSSAI advisories for product approval, CliniExperts has obtained many product approvals within very short timelines for their clients. The technical competence of staffs at CliniExperts ensures flawless dossier preparation for product approvals ensuring minimal query generation at FSSAI, New Delhi. Company has also obtained FBO licenses (Central License) for many food /nutraceutical manufacturing companies and trading companies.
CliniExperts have built a cordial relationship with regulatory bodies of India such as CDSCO, FSSAI, ICMR and NPPA, and with clients that includes reputed companies like Forever Livings, Telebuy, KP Manish, Galderma, Novotech, Generex Pharmassist, Dhathri, Softgel, The George Institute, Randox among several others.
The company envisions further developing and refining their offerings in the field of outsourced support services to the global market so that more and more clients will see them as a valuable asset and strategic partner. CliniExperts' looks forward to provide the highest quality pharma regulatory and research support services to their clients. They will do this by making the most effective use of their skills and resources of their professional team and by engaging in industry best practice operating models. "We will make the most effective use of our resources and skills while engaging in industry's best practice operating models and continuously deliver the best service, ensuring the highest value for all concerned," concludes Dr. Ashwini.