Sugam – CDSCO Portal for Online Application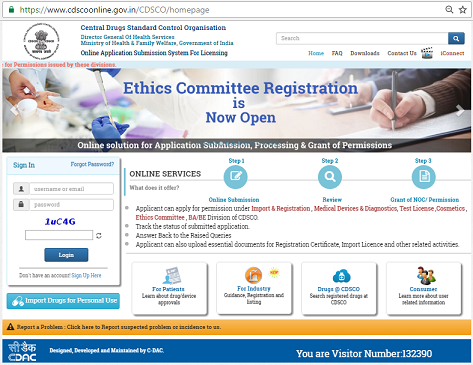 With rapidly growing digitalization in the world of healthcare and its accessory outfits, the Indian Government has chosen to join the foray and ride the digital wave. As part of implementation of e-Governance, the Central Drugs Standard Control Organization (CDSCO) has decided to improve the security for pre-registering the applicants for the services rendered by them. An online licensing portal of CDSCO has been launched on 14 November, 2015 and has been named "SUGAM". It is a reliable, fast, and spam-free portal that has been launched by the Ministry of Health & Family Welfare.
Phases of SUGAM launch
| | | |
| --- | --- | --- |
| | | |
In addition to importers and registration applicants, the authorized Indian agents and service providers, corporate and foreign enterprises holding Indian subsidiaries are also allowed to use this application portal. Another facility provided by this new online application system is the freedom to obtain the Whole Sale Drug License.
As per the Drug Controller General of India (DCGI), Dr. GN Singh, this online portal service has been communicated to all the state regulatory authorities as well as the pharmaceutical industry associations. The IT team of CDSCO will take care of all the verifications of information related to user profile as well as type of submission. The entire process has emerged as a complete, one-time process where applicants can continuously access their profile and the status of the application and can make the necessary amendments to their applications online.
Some states of India such as Karnataka, Gujarat are among the first ones that are already following such initiatives and exercising them with high transparency and efficiency. They are working a step ahead as compared to other states and are enjoying such portal facilities in their operation systems.
SUGAM: Which services are provided?
SUGAM allows the applicants to avail the following services:
Online Submission of applications in various departments of CDSCO.
Review
Grant of No Objection Certificate/Permission
Following are the applications that can be filed online through SUGAM portal:
Post Approval Change for Drug, Medical Device and Diagnostic Kit
As per notification dated Oct. 5, 2016, obtaining permission to conduct GCT will be filed online through SUGAM with effective from Oct. 24, 2016.
SUGAM: Who can apply?
Following users can register on CDSCO online portal:
All applicants willing to get their products (regulated by CDSCO) registered or imported have to apply through this online portal.
All the applicants who have already submitted their applications to CDSCO via hard copies prior to 15th February, 2016, have been requested by the CDSCO to apply or resubmit their documents through this online application system to avail smoother and hassle-free services.
Note: As per Health Ministry, the applicants who have registered on the portal can only submit the hard copies of the applications. This has become operational from 15th January, 2016. Subsequently (with effect from 15th February, 2016), the registered applicants need to submit their application through this online application system along with a hard copy for cosmetics registration.
SUGAM: How to Apply?
To have access to the Online Registration Portal for CDSCO, the following steps should be followed:
Using any of the standard web browsers such as Firefox, Google Chrome etc., go to the link http://cdscoonline.gov.in
Click on "Sign up here" to get registered (Figure 1). If you already have an account, you can Login using the Id and Password. (Figure 2).


Select the registration purpose (Figure 3) and fill the Applicants details & registered Indian Address (Figure 4)

Login through the user account
Open the list of all the licenses that can be controlled
By just a few clicks, options such as licenses issued, suspended and cancelled; manufacturing facility for each location, details of import licenses, technical staff working at each facility etc. will appear right on the screen.
Notes:
Verified login credentials are required by the user to get registered as well as to access the portal for Online Form Submission.
The user has to fill a Permission Owned/Historical Data or Form Submission. He may fill Permission Owned/Historical Data if he holds permissions such as registration certificate and import license in the form of a hard copy which has been issued in the year 2012 or later.
In case of Registration Certificate such as Endorsement case or Re-registration case for Registration Certificate, the user has to fill the previous registration certificate details prior to applying for form 40 under Form Submission Menu.
Similarly for Import License (Endorsement case or Renewal case for Import License), the user fills the previous details as well before applying for form 8 under Form Submission Menu.
SUGAM: Documents required for SUGAM Registration.
ID Proof (Aadhar card, PAN Card, Passport)
Undertaking in given format.
Address proof details. (Copy of CIN, IEC)
This initiative by the CDSCO has found immense acknowledgement and is a praiseworthy step in the direction of client empowerment. The portal SUGAM will make the process faster, easier and nearly paperless for everyone involved- importers, manufacturers, agents, companies and the CDSCO itself.
To know more of our services, please email us at contact@cliniexperts.com or visit https://cliniexperts.com/.