Biocan Launches Rapid Antibody Test Kits For Novel Coronavirus (COVID-19)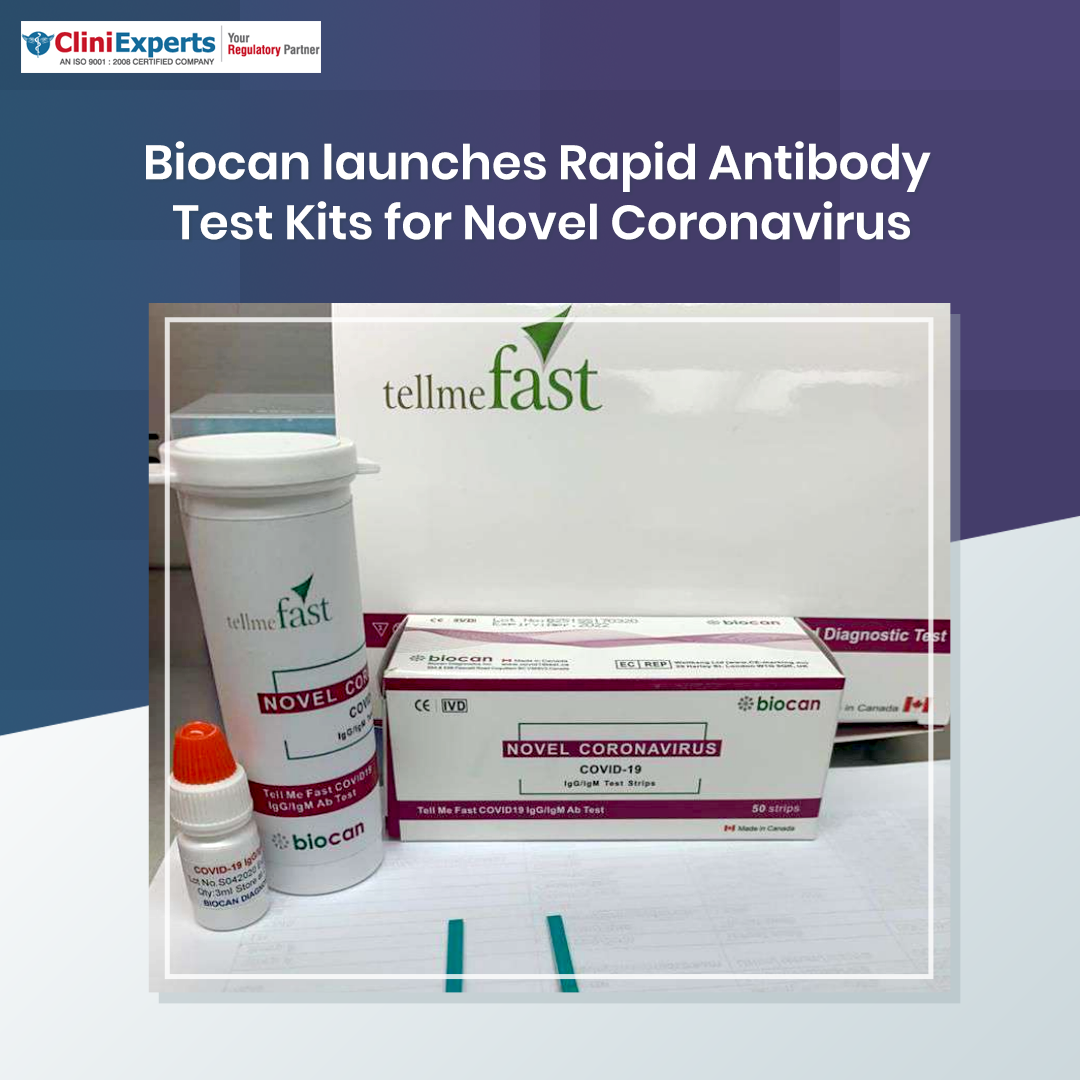 Coronavirus is continuing its spread across the world, with more than three million confirmed cases in 185 countries and more than 200,000 deaths. The fight of India against Corona virus infection is hampered due to the shortage of testing kits. Moreover, the available tests are taking time to confirm the diagnosis. This is affecting the continuous efforts of the Indian government, healthcare professionals, and point of care in saving lives.
At this hour of crisis, Biocan Diagnostic Inc brings in India a rapid testing kit named Tell Me Fast. A rapid test for the qualitative detection and differentiation of novel coronavirus (COVID- 19) IgG & IgM antibodies in human whole blood, serum, and plasma samples. Tell Me Fast Rapid Tests are very simple to perform and give accurate results in minutes and can be done at the point of care settings, hospitals, laboratories, or at any healthcare facilities. The test is primarily used for screening of COVID-19 patients. It is approved by the Central Drugs Standard Control Organisation (CDSCO) and (United States Food and Drug Administration) USFDA.
Specifications of Tell Me Fast kit for Diagnosis of Novel Corona Virus (COVID-19)
Biocan Tell Me Fast Novel Coronavirus (COVID-19) IgG/ IgM Antibody Rapid Test is a lateral flow chromatographic immunoassay.

| | |
| --- | --- |
| Sample Types | Human serum/plasma; Fingerstick whole blood; venous whole blood |
| Sample Size | 10µL (serum/plasma); 20 µL (Fingerstick whole blood, venous whole blood) |
| Test Time | 10 – 15 minutes, do not read after 20 minutes |
| CE Mark | Yes |
| Other Regulatory Body | CDSCO (India); MEDSAFE (New Zealand); US FDA approval communication received |
| Sensitivity | 92.00% |
| Specificity | 99.50% |
| Storage | 2° – 30°C |
| Shelf Life | 24 months |
| Quantity per kit | 50 strips /tests per box |
| Control | Procedural control included within the test |
| Cat No | B251S |
This test may be reactive with coronaviruses under the subgenus Sarbecovirus that includes 2019-nCoV, SARS-CoV, and bat SARS like coronaviruses since there are a lack of 2019-nCOV positive controls and the genetic diversity of 2019-nCoV in humans and animals is yet to be fully determined.
The test done by this kit gives a presumptive diagnosis for Novel Corona Virus Infection (COVID-19). A negative result may be obtained if the specimen is inadequate or antibody concentration is below the sensitivity of the test. However, a physician should confirm the Corona Virus infection diagnosis based on all clinical and laboratory findings, including qualified assays. CliniExperts helped in the rapid approval of the testing kit Tell Me Fast developed by Biocan Diagnostics Inc in India, which will help millions of people to screen for the infectious Novel Corona Virus.
Feel free to contact CliniExperts for any regulatory approval of diagnostic kits for COVID-19 in India.
Reference:
Available at: https://www.rapidtest.ca/ .Accessed on 4 th May, 2020.